The recent rape case of five-year-old girl by a neighbour in Delhi has triggered protests in the national capital, re-awakening concern on women's safety.
The five-year-old was repeatedly raped by a neighbour, who mutilated her genitals and tried to strangle her.
The accused, identified as Manoj, hails from Bihar and has been arrested by the Delhi police.
On Friday, a big crowd gathered outside the hospital where the girl was admitted for treatment to protest against the brutal act. According to television reports, the protestors demanded for safety and security of women in the society and better law enforcement.
The protests included family members and relatives of the victim, neighbours and activists of Arvind Kejriwal's Aam Aadmi Party.
The girl was initially admitted to Swami Dayanand Hospital for treatment but later she was shifted to All India Institute of Medical Sciences (AIIMS). The girl's condition is said to be stable.
Doctors at the Swami Dayanand hospital said that it is "one of the worst" rape cases they have ever seen. They said small bottle of hair oil and two-three pieces of candles were inserted into her private parts.
Demonstrators in peaceful protest gathered outside AIIMS hospital with candles and placards.
The girl was reported missing on 15 April. She was found three days later in the neighbour's apartment on the ground floor of a residential building in Gandhi Nagar area.
When the father of the victim went to police to register an FIR (First Information Report), they refused and instead offered ₹2, 000 saying that they should not highlight the issue in the media.
"We went to the police to register an FIR (First Information Report) but they refused. They never tried to find her, and instead drove us away," the father of the victim told reporters, according to IANS.
"The police told us that we should not highlight the issue in the media and gave us ₹2, 000 as kharcha-pani (for expenses and refreshment) and told us to thank god that the girl is alive."
Meanwhile, police have filed attempt to murder section against the accused under sections 307 (attempt to murder), 376 (a) (rape), 362-A (kidnapping) among others of IPC and 6 and 9 of Protection of Children from Sexual Offences (POSCO) Act, 2012.
Three police officials including assistant commissioner of police (ACP) were suspended for misbehaving with victim's family and for slapping woman protestors on Friday.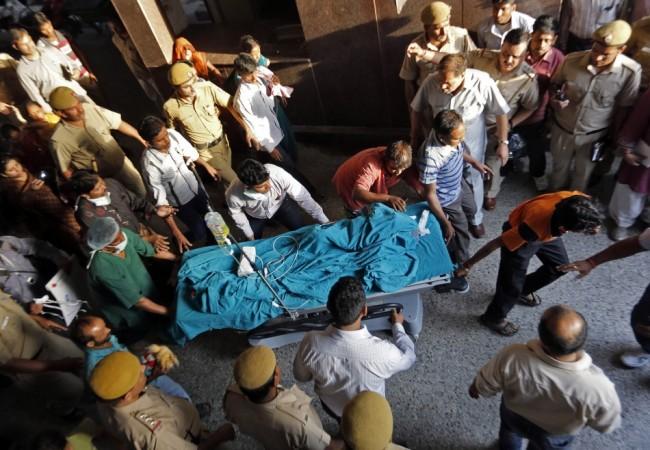 This little girl has a message for police brutality in times of #VAW #DelhiRAPE #JusticeForWomen #India twitter.com/zenacostawrite...

— Zena Costa‏(@zenacostawrites) April 20, 2013
#JusticeForWomen Pic : Delhites in peaceful protest outside AIIMS hospital all thru last night #DelhiRape #VAW #India twitter.com/zenacostawrite...

— Zena Costa‏(@zenacostawrites) April 20, 2013
@arvindkejriwal AAP volunteers made human chain, clear passage for ambulance #DelhiRape twitter.com/Parasmaniji/st...

— parasmani (@Parasmaniji) April 20, 2013