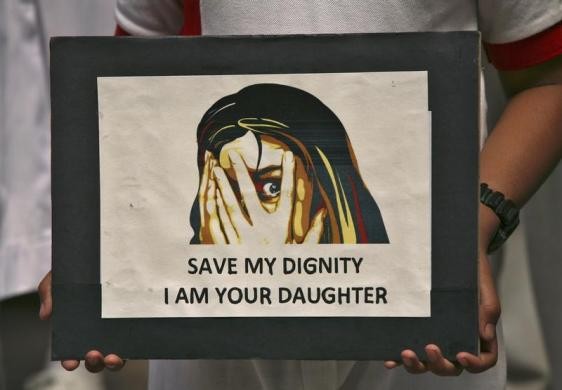 A six-year-old was found bleeding and howling in pain in a public toilet in Delhi with grave injuries to her neck and genital.
A passerby found the girl profusely bleeding in the men's toilet and called the police.
The girl was scarred with grevious wounds conflicted by sharp object most likely blade.
"She had her hand raised and was crying. She was bleeding profusely. She was slashed with a blade on her neck and private parts. The neck wounds suggest that assailant(s) probably tried to kill her," a police officer told Indian Express.
The minor was rushed to the AIIMS trauma center where doctors performed corrective surgery on her.
"We examined her under general anaesthesia. There were perineal tears, and it seems as if some foreign object was inserted in her vagina, damaging her genital tissues. But we did not retrieve any object from her genitalia," said a doctor at the AIIMS Trauma Centre.
"We had to surgically dress her perineal tears. We also inserted a drain to help remove the fluid accumulation, and a colostomy procedure was performed to provide an alternate route for stool."
Doctors have declared the girl's condition stable but she will be kept under observation.
A shocked mother of the victim told Hindustan Times, "The animal attacked my daughter with blades when she didn't allow him to touch her."
According to the family members the girl had gone to relive herself in the public bathroom.
Police have rounded up 22 persons and are in the process of interrogating the suspects.
The monstrous incident comes in the wake of the brutal rape and mutilation of a 5-year-old minor in Delhi which shook the capital city.