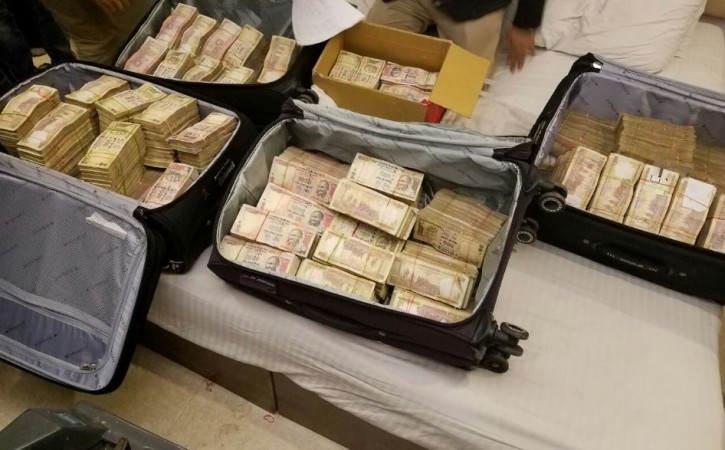 The Income Tax department and the Crime Branch in a joint operation on Tuesday recovered Rs 3.25 crore in old notes from a hotel in the Karol Bagh area in Delhi. Five people have been arrested in connection with the case and further enquiry is being carried out.
During interrogation, it was revealed that the demonetised notes belongs to Mumbai-based Hawala operators, ANI reported. It is believed that specialists were hired to pack notes in such a manner that the money could not be detected by airport scanning machines.
This is not the first time that black money has been recovered by the IT department.
Last Saturday, the Delhi police raided a a law firm in South Delhi's Greater Kailash-I area and recovered cash worth Rs 13 crore. Of the amount recovered, Rs 2.5 crore was found to be in new currency notes.
Ever since Prime Minister Narendra Modi on November 8 announced the ban on Rs 500 and Rs 1000 denomination notes across the country, there have been several cases of the IT department seizing cash running into lakhs of rupees at various locations across India.
The IT department busted a money exchange racket in Chennai that involved three persons, including an industrialist. The seizures included old (demonetised) and new (Rs 2,000) currency notes worth about Rs 90 lakh and 100 kg of gold.
Last month, demonetised currency notes worth Rs 62 lakh was seized from a passenger at a Kozhikode bus stand on Tuesday, bringing the total seizure of such bank notes to Rs 87 lakh till now.
The Border Security Force (BSF) officials on November 14 had seized Rs 5 lakh worth unaccounted notes of Rs 500 and Rs 1,000 from a person travelling in a bus in Chhattisgarh's Kanker district.