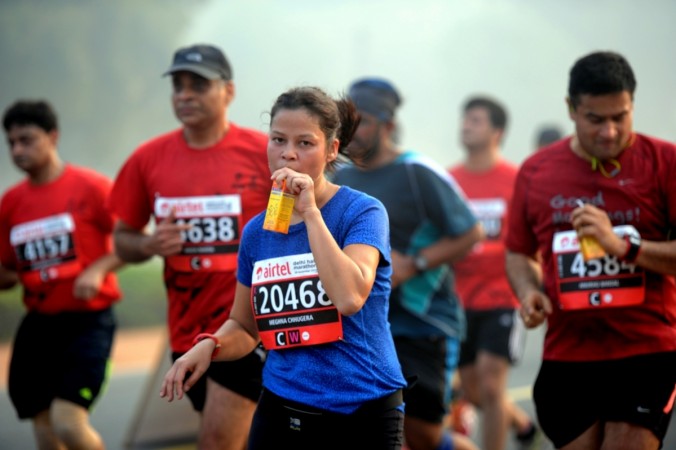 With heavy smog engulfing the national capital, the Delhi Half Marathon 2016 is set to be a worrying time for the participants. Having said that, the race must go on. Inspiration here can be drawn from the Salwan Marathon 2016, where differently-abled students braved the horrific air pollution to race their way to glory.
To keep the tension and the health hazards in check, several measures are being taken to make the race safe for the participants. READ ALL ABOUT THE ADHM 2016 HERE.
Here is the list:
Nebulisers operating on UPS batteries will be available for participants at all medical stations and medical base camps along the course.
Marathon enthusiasts with respiratory conditions such as asthma and chronic pulmonary disease have been asked to give the ADHM 2016 a miss.
Inhalers will also be provided to deal with abnormal breathing /bronchospasm episodes, and oxygen will be available at all ambulances and at the base camp.
Six medical stations and two base camps will be set up en route, which will be supervised by 75 doctors, 50 physiotherapists and over 100 nurses.
Seven ambulances will be stationed at various locations along the route.
There will be 12 water stations along the route, from where around 98,000 litres of water will be distributed.
800 private security guards along with more than 1,300 volunteers, 126 bouncers and 35 CC TV cameras will supplement the security efforts.
"Over the last few weeks, Delhi has been in the news for its challenging environmental conditions," stated Dr Tamorish Kole, medical director of Delhi Half Marathon. "ADHM is a pollution deterrent as it takes all vehicles off the Delhi roads over 21 plus kms for several hours. Our team has been assessing the rapidly changing scenario.
"Researching race data and consulting with colleagues and peers, we have ensured that participants will be prepared and better equipped. In earlier editions, people with heart ailments like CAD [Coronary Artery Disease], known history of heart failure were given special advisories.
"This year, participants with respiratory disorders like asthma, COPD, and respiratory infections in the past 15 days are being advised to run to their trained ability and not push themselves too much or avoid participation," Dr. Kole added.
- (With inputs from the Press Trust of India)