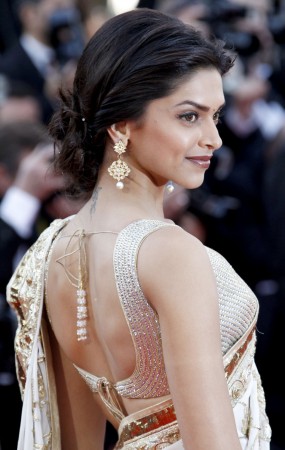 It looks like that Bollywood diva Deepika Padukone has completely erased her ex-boyfriend Ranbir Kapoor from her life, at least from a commercial.
Padukone's famous "RK" tattoo, which she inked when she was in a relationship with Kapoor, has disappeared from her nape. In her latest soft drink commercial, Padukone shows and talks about her nape but her tattoo is not visible.
Earlier, there were reports that the actress wanted to get rid of the tattoo via surgery. However, the reports turned out to be just rumours as she continued to carry the tattoo.
But the latest soft drink ad features Padukone minus her tattoo. For the commercial, the ad and makeup team have concealed the tattoo.
"The tag line focuses on her neck. So we had to ensure that the tattoo is not visible. It took us 40 minutes to conceal it," a makeup artists from the team told Deccan Chronicle.
The advertisement is shot by "Bombay Velvet" director Anurag Kashyap who said that he was just focused on shooting the ad.
"I haven't noticed the tattoo, may be it got concealed due to make-up. I was just focusing on the shot and not her tattoo," Kashyap said.
When Padukone was dating Kapoor, she made the "RK" tattoo and even after their breakup she maintained that she would keep her tattoo.
However, the actress seems to have changed her mind now. In an interview recently, the actress said that she would remove the tattoo from her neck.
There were even buzz that the actress might alter that tattoo and change the initials from "RK" to "RS" as she is reportedly dating her "Ram-leela" co-star Ranveer Singh.
Kapoor and Padukone might not be dating each other anymore, but the ex-lovers still share a great professional relationship.
Last year, they rocked at the box office with their blockbuster film "Yeh Jawaani Hai Deewani" ("YJHD"). With their sizzling chemistry in the film, Kapoor and Padukone proved that ex-lovers can still create magic on-screen.
The "YJHD" hit pair will be seen in Imtiaz Ali's upcoming film "Window Seat."
Check out the videos of her latest commercial and Kashyap talking about the shoot below: