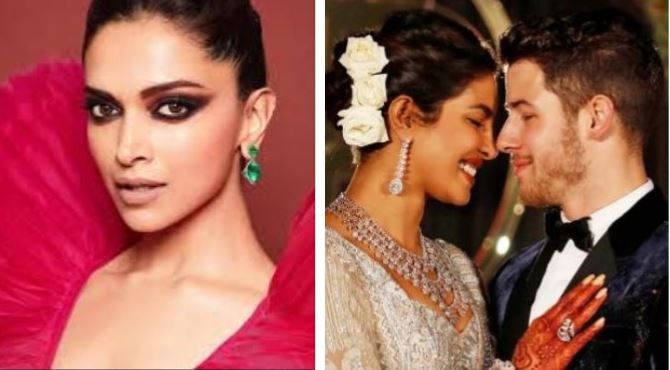 Deepika Padukone and Priyanka Chopra's friendship goes back a long way. The duo, who made their appearance on Karan Johar's 'Koffee With Karan' together and struck a friendship have not looked back ever since. While Priyanka has brought Indian cinema and artist to a global platform, Deepika has spearheaded and re-shaped how women are perceived in Indian cinema.
Though both Deepika and Priyanka were pitted against each other in 'Bajirao Mastani' their camaraderie was quite evident at Priyanka Chopra's wedding reception in Mumbai where the divas shook their leg to 'Pinga' in full fervour. Not just that, the two have always had amicable things to say about each other.
In a recent interview with Filmfare, Deepika Padukone spoke at length about Priyanka Chopra's wedding with Nick Jonas. She said that though she doesn't know Nick Jonas that well, she could tell that Priyanka Chopra feels settled with him. She also added that working with Priyanka Chopra and knowing her made her realise that even she wants the same things from life - for someone to love her, stability and strong relationship.
In the same interview, Deepika also spoke at length about how her relationship with Ranveer Singh began. Reminiscing those days, Deepika said that after her breakup in 2012, she was so exhausted that she only wanted to go for casual dating and nothing serious. Even when her relationship with Ranveer Singh began, she told him the same. She also had told him explicitly that she wanted an open relationship, however, as fate would have it, there was no one else she could look at after she started dating Ranveer. And six years down the line, the duo is happily married.
On work front, Deepika Padukone would be seen acting and co-producing Meghna Gulzar's untitled next, based on acid attack survivor.