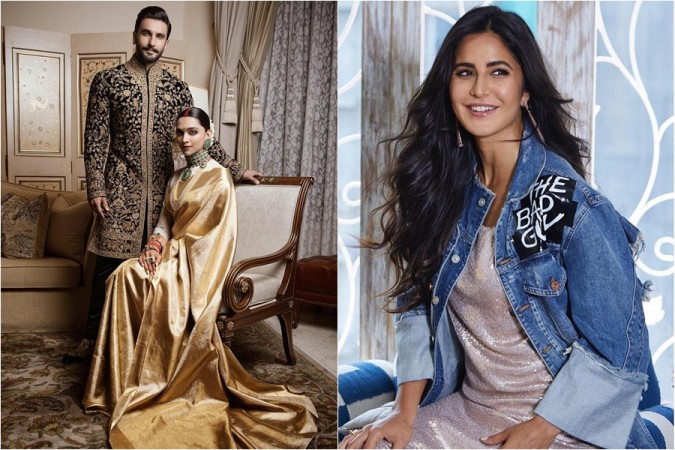 Deepika Padukone's relationship and her bitter break-up with ex-boyfriend Ranbir Kapoor has always been the talk of the town. It is an open secret that Deepika had been sharing cold vibes with Katrina Kaif for whom Ranbir left her. As both Deepika and Ranbir have moved on in life and have been cordial with each other, it looks like Ranveer Singh has finally convinced Deepika to bury the hatchet with Katrina.
And it may come as a big surprise to everyone that Ranveer has apparently invited Katrina Kaif to his wedding reception which will take place at The Grand Hyatt, Mumbai on December 1. However, it is to be noted that Deepika didn't invite Katrina but Ranveer made sure that she gets invited to their wedding reception. The ceremony will be attended by the who's who of Bollywood which will include stars like Shah Rukh Khan, Sanjay Leela Bhansali and others. The dress code of the event is black tie as mentioned on the reception card.
"Katrina received the invitation four days ago and is gearing up to attend the event. She has discussed this with Salman Khan and if all goes well, she will walk in to the party with the superstar and Ali Abbas Zafar. She is looking forward to going for the bash," a source told Spotboye.
The source added, "Ranveer and Deepika have been sending personal messages to their close friends in the industry. While the actress did not send a text to Katrina, Ranveer ensured that he did."
In January, when Deepika appeared in a celebrity chat show 'BFFs with Vogue' with her sister Anisha Padukone, host Neha Dhupia decided to dig a bit into the actress' past and asked a daring and pertinent question whether she would invite Katrina Kaif to her wedding. And the actress replied with a firm 'No' and there's no guessing why.
Back in 2011, Ranbir had confessed that he indeed cheated Deepika on Katrina in an interview with Cosmopolitan. While all three of them - Deepika, Ranbir and Katrina, have had been through a rollercoaster ride of emotions in their relationships, it looks like the two Bollywood diva has finally decided to let bygones be bygones.