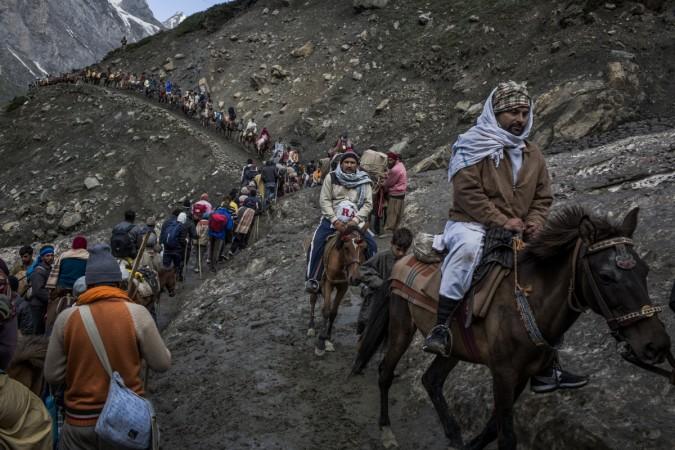 The Amarnath Yatra in Jammu and Kashmir and the Kailash Mansarovar Yatra through Nepal have been hit by bad weather in the last few days, causing several issues to the pilgrims. Both the regions have been witnessing heavy rains, which have in turn caused landslides and waterlogging.
At least five pilgrims have been reported dead, and three others sustained injuries after a landslide, triggered by flash floods, hit the Amarnath pilgrims on the Baltal route on Tuesday, July 3. A similar incident also took place in Nepal's Simikot region, where two Indian pilgrims lost their lives due to landslides.
Live Updates
2018-07-0412:27 (IST)
7 Amarnath pilgrims injured
Seven Amarnath pilgrims were injured on Wednesday, July 4, when the vehicle they were travelling in met with an accident on the Jammu-Srinagar highway in the Ramban district.
The injured have been shifted to the hospital
2018-07-0411:42 (IST)
Faith over fear
Despite the threats, the year 2018 is likely to see the highest number of pilgrims visiting the shrine and the advance registrations have reportedly crossed the 2 lakh mark. The reason behind this jump in numbers is said to be cheaper helicopter fares, the cost of a one-way ride being just Rs 1,600.
About 40,000 pilgrims have booked tickets on these choppers and the seats for the first three weeks have been sold out, according to the Economic Times.
2018-07-0411:41 (IST)
Hizbul Miujahideen welcomes pilgrims
Security forces may be on high alert in the state over LeT threats, but militant group Hizbul Mujahideen has released an audio clip, assuring the pilgrims that they are safe and have nothing to worry about.
In the audio clip, a voice, believed to be that of Riyaz Naikoo, the commander of the terror group, said that the Hizbul Mujahideen has no plans to carry out any attack and pilgrims could even travel without any kind of security cover.
2018-07-0411:41 (IST)
Vehicle monitoring
The government has also said each vehicle carrying the Amarnath pilgrims would be monitored with the radio frequency tag. In addition, a joint control room will also be set up by the security forces and the state police for better monitoring, protection and quick action.
An official also revealed that several arrangements such as CCTV cameras, quick reaction teams, and dog squads will be pressed into service. The security officials will also take part in rigorous drills and tracking of vehicles will be a part of it.
2018-07-0411:40 (IST)
Security arrangements in J&K
Keeping in mind such threats, the Central Reserve Police Force (CRPF) has reportedly formed a special motorcycle squad to monitor the activities during the pilgrimage and keep an eye on possible troublemakers.
"Keeping in view the convenience and security of pilgrims, the CRPF has prepared a special motorcycle squad, which on one hand, will ensure the security of pilgrims on the yatra route and on the other, will also be used as small ambulances for them," Zee News quoted a CRPF spokesperson as saying.
2018-07-0411:39 (IST)
LeT's large consignment of arms
In the latest warning, intelligence agencies have suggested that the Pakistan-based militant group has received a large consignment of arms and ammunition, which AK-47 rifles and grenades.
2018-07-0411:35 (IST)
Terror threat to Amarnath Yatra
Security forces in the North Indian state of Jammu and Kashmir have been on high alert, which comes after the intelligence agencies said that about 20 terrorists, mostly of the Lashkar-e-Taiba (LeT) outfit, have sneaked into the valley and plan to attack the pilgrims.
2018-07-0411:31 (IST)
Helpline numbers
Sushma Swaraj has tweeted a list of helpline numbers that one can reach out to for any help
Pranav Ganesh First Sec: +977-9851107006
Tashi Khampa: +977-98511550077
Tarun Raheja: +977 9851107021
Rajesh Jha: +977 9818832398
Yogananda: +977 9823672371 (Kannada)
Pindi Naresh: +977 9808082292 (Telugu)
R Murugan: +977 98085006 (Tamil)
Ranjith: +977 9808500644 (Malayalam)
2018-07-0411:16 (IST)
Pilgrims asked to halt journey
The Indian Embassy in Nepal has asked pilgrims to stay back on the Tibet side as facilities in Nepal are not adequate.
2018-07-0411:15 (IST)
India sets up hotlines
India has also set up hotlines to help the stranded pilgrims in Nepal and External Affairs Minister Sushma Swaraj said that all possible aid would be extended to those in need.
"Indian Embassy in Nepal has deployed representatives in Nepalganj and Simikot. They are in touch with the pilgrims and ensuring that food and lodging facilities are available to all the pilgrims," she said.
2018-07-0411:08 (IST)
Kailash Mansarovar Yatra
While two pilgrims have lost their lives, hundreds remain stranded in Nepal's Simikot region. Rescue work has been intensified to help those stuck along the route
"So far 104 pilgrims have been rescued... Seven commercial flights have so far been operated for the rescue work," the Indian Express quoted officials in New Delhi as saying.
2018-07-0410:00 (IST)
Death in Amarnath Yatra
Speaking of the incident, a police official told the Press Trust of India: "A landslide hit between Railpatri and Brarimarg on the Baltal route." He said five people -- four men and a woman -- were killed, while three others were injured.
2018-07-0409:58 (IST)
Omar Abdullah expresses grief
Reacting to the incident, former Jammu and Kashmir chief minister Omar Abdullah took to Twitter and said: "Tragic news of the deaths of Amarnath pilgrims due to a landslide. Condolences to the families of the deceased & best wishes for the speedy recovery of the injured."
2018-07-0409:28 (IST)
Amarnath Yatra
The Amarnath Yatra started on June 28 despite bad weather and until now 11 people have been reported dead.
A few injuries have also been reported and the police officials said that the SDRF and ITBP personnel had been pressed into action to carry out rescue operations.