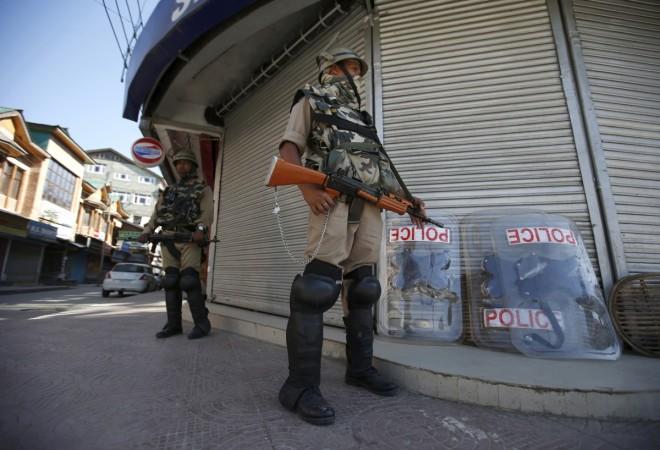 Security forces in Jammu and Kashmir have increased anti-terrorist operations ever since the governor's rule was imposed in the state.
Lt Gen A K Bhatt, General-Officer-Commanding of Srinagar-based Chinar Corps (15 Corps), recently informed media that around 250 terrorists are camping in the southern parts of Kashmir and the same number of militants are waiting at "launch pads" across the Line of Control to infiltrate into the valley.
As per the government records, the armed forces have killed nine militants since the BJP-PDP cut their ties.
At least two Lashkar-e Taiba militants have been shot dead while a third one surrendered after a gun battle.
The armed forces successfully neutralised Shakoor Ahmed Dar, the divisional commander of LeT and another Pakistani national identified as Haider.
The army has already prepared a list of 21 most wanted militants. Security forces have already killed Dawood Ahmed Sofi (ISJK) and Shakoor Ahmed Dar (LeT).
As per news reports, Dawood Ahmed Sofi alias Danish was killed on Friday during a gun battle with the armed forces in the Anantnag's Srigufwara area. The names of these terrorists were released soon after the government took the decision to cancel the extension of Ramzan ceasefire and snapped their ties with their allies PDP and imposed Governor's rule in the valley.
The list includes names of 11 terrorists who are closely associated with different terrorist organizations like, Hizb-ul-Mujahideen, Lashkar-e-Toiba (LeT), Jaish-e-Mohammed, Ansar Ghazwat ul-Hind and ISJK.
All the terrorists are under the radar of the security forces as they hatched multiple terror plots in the valley in the recent past. As per the tabled list, all the terrorists are in A, A+, A++ category.
The valley has witnessed deadly terror attacks and extremist backed tailor-made civilian protests in the recent past. After the encounter of the Hizbul Mujahideen commander Burhan Wani in the summer of 2016, the valley turned hostile, with several terror attacks aimed at the armed forces.