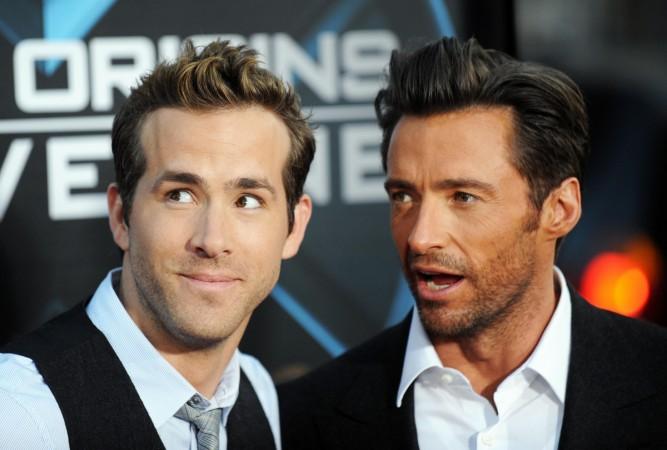 This just happened: Wolverine actor Hugh Jackman and Deadpool Ryan Reynolds came together for an epic video. Now, what's so special about that? Well, the Wolverine actor was himself while Reynolds was dressed as the Deadpool in the video.
The two X-Men actors came together to create a special birthday video. Jackman is seen talking to the camera and explaining how busy he has been with some "stuff" when the Aussie actor is interrupted by Deadpool, played by Ryan Reynolds.
While Jackman is wishing an unknown person in the video, Reynolds is seen reclining on a bed singing, "There will be sun tomorrow." He goes on to sing, "Who let the dogs out," before the video ends.
The short video was first shared by Jackman on his Instagram and Facebook handles and was later shared by Reynolds on his Instagram account.
Jackman shared the video with the caption: "When you're trying to record a heartfelt birthday message ... but are interrupted by the least greatest showman," tagging Reynolds in it.
As soon as the video was shared, fans went crazy speculating that the duo was coming together for Deadpool 2. The film is scheduled to release next month.
Check out the video here:
"Wolverine is making a comeback! DP 2 after credits just wait," a fan hoped. "OMG!! Is there a Deadpool and Wolverine movie coming out?!?" another curious fan asked. "STOP TEASING US!!!! @vancityreynolds and @thehughjackman we need a Deadpool/Wolverine team up movie. PLEASE!" begged a fan.
While there is no clarity on who the birthday video was going out to, this does pour fuel on the speculations that Jackman might do a cameo in Deadpool 2.
A few weeks ago, it was reported that a secret cameo was shot during the reshoots of Deadpool 2. The X-Men movie makers have kept the identity of the cast under the wraps but fans have gone wild speculating that the Logan star might be the secret cameo the team doesn't want fans to know about.
Fans will have to wait until May 18 to know who the cameo was and if Jackman is going to be a part of Deadpool 2.