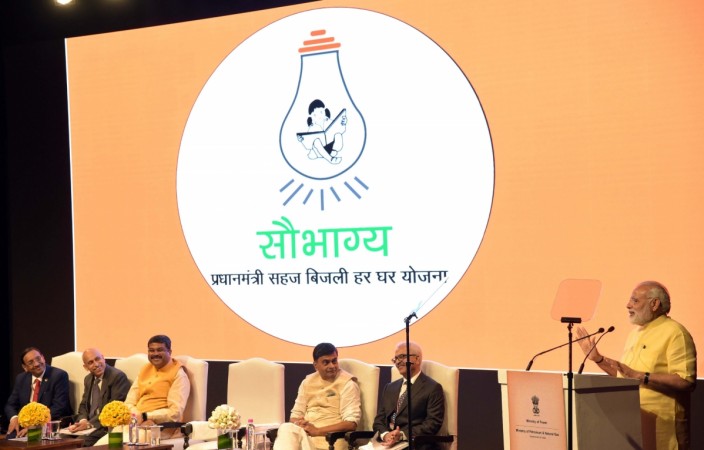 Prime Minister Narendra Modi on Monday, September 25, launched the Rs 16,320-crore "Pradhan Mantri Sahaj Bijli Har Ghar Yojana" or the "Saubhagya" scheme to provide electricity connections to over 4 crore families in rural and urban areas by December 2018.
"The government will connect each house, whether it is in village, a city or in remote locations," Modi said in his speech.
"No poor will have to pay for the connection. The government will go to each such poor house and give a connection. A connection without spending a rupee. This will cost more than Rs 16,000 crore. We have decided that no poor will bear this burden," Modi said in his speech.
Why launch this now?
The project is nothing new. Back in 2015, the Central government had launched a scheme called the "Deendayal Upadhyaya Gram Jyoti Yojna" aiming to electrify villages and provide free connections to people living below the poverty line.
But the scheme wasn't all that successful even after the government said 78 percent of 18,000 villages had been electrified.
A village is declared to be electrified if 10 percent of its households along with public places have electric connections. So a large number of household remained without electricity under the scheme even though the village was marked electrified.
With the Saubhagya scheme, the government aims to ensure the coverage of households as opposed to only villages.
Benefits of the scheme
While free connections will be provided to below poverty line (BPL) households, Union Power Minister RK Singh said people above the poverty line would have to pay only Rs 500 per connection in 10 instalments under the Saubhagya scheme.
The government would instal prepaid meters and consumers would have to pay in advance to buy a fixed amount of electricity — quite like they would do for a prepaid phone connection, Scroll quoted the minister as saying.
Electrification will in turn improve the education, health, connectivity with the multiplier effect of increased economic activities and job creation.
More importantly, the incumbent government would like to cash in on with launching of social schemes as the 2019 elections inches closer.
How will it work?
Government-authorised public institutions in rural areas — like gram panchayats — will carry out billing and collection tasks, keeping discoms out of process.
This is only possible because in this scheme there is no subsidy component for monthly electricity consumption.
Households will be provided solar power packs along with battery banks in case the national electricity grid can't reach them.
The state-run Rural Electrification Corporation is the nodal agency for the scheme.