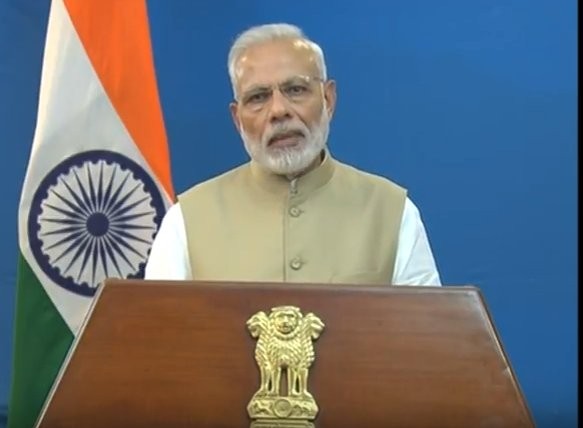 It's been three years since Prime Minister Narendra Modi started addressing the nation via his famous monthly radio show Mann Ki Baat.
In his previous address, he had made references to the violence that took place in Punjab in the aftermath of the arrest of the Dera Sacha Sauda chief Gurmeet Ram Raheem Singh.
This time his speech seemed to revolve around the Swach Bharat Abhiyan, and the people and projects associated with it.
Here are the highlights from his address today:
The prime minister said Mann Ki Baat was a unique opportunity to connect with the entire nation as the people across the country have been sharing constructive views while continuing to express their opinions and concerns.
He said that the "Selfie with Daughter" campaign infused a new confidence among girls.
He asked people to buy a Khadi product this Gandhi Jayanti and light the lamp of prosperity in the lives of the poor, thus supporting the movement for the growth of the Khadi industry.
He recalled that his government had decided to observe Swachhta Abhiyaan 15 days before October 2. While thanking news outlets for spreading the message, he said he was glad that people were participating in the mission and contributing to keep the country clean.
He congratulated Bilal Dar from Srinagar — the new brand ambassador of cleanliness. Bilal has devoted himself to cleaning nearly 12,000 kg waster annually. Now, he has been asked to supervise a mission.
PM Modi recalled great men like Mahatma Gandhi, Jayprakash Narayanan and Deen Dayal Upadhyay who stayed away from politics and devoted their lives to the service of the country.
The prime minister said these people took initiatives at the grass-root level and connected with the common man.
There have been many great leaders in the past, from Mahatma Gandhi to Sardar Patel, who had given clear directions towards the 20th and 21st centuries, he said.
Modi urged the youth to become tourists and promote tourism between October and March. He asked youngsters to explore the wonders of Incredible India and share their list of favourite destinations.
He said Swati Mahadik and Nidhi Dubey, whose husbands were martyred in the defence of the country, were a great inspiration to the country.