https://data1.ibtimes.co.in/en/full/784700/virat-kohli-prays-wife-anushka-sharma-temple-after-ugly-ipl-fight-gautam-gambhir.jpg
It's indeed a big day for Indians as the India vs Newzeland semi-final is underway at Mumbai's Wankhede stadium. The stakes are high as India needs to win the game. The semi-final is happening in Mumbai's Wankhade stadium. India has never beaten New Zealand in an ICC knockout match and therefore fans are waiting with bated breath for the final result.
India skipper Rohit Sharma won the toss and elected to bat against New Zealand in the first semifinal of the World Cup.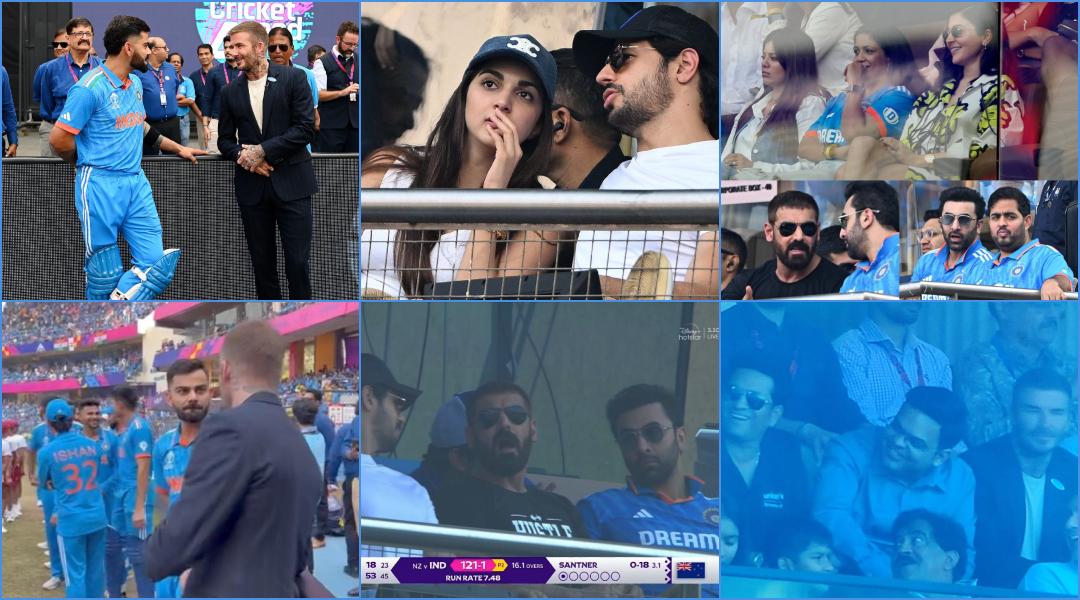 Fans and several celebrities have flocked to the stadium to witness the biggest clash.
Not just celebs, former England football captain and Manchester United great David Beckham was snapped at Mumbai's Wankhede Stadium watching India vs New Zealand.
The former Real Madrid star was also seen with cricket legend Sachin Tendulkar and interacted with Virat Kohli before the match began. The ICC Cricket World Cup took to X, formerly Twitter, to share a few photos of Beckham.
The former football player was seen having a conversation with Kohli and in another, a football is at his feet as he is walking in the ground with Tendulkar. The ICC captioned the post as "Brimming with greatness."
Earlier in the day, David Beckham took to his Instagram stories and shared that he was excited to watch the match.
Meanwhile, Star India batter Virat Kohli was caught playing football with legendary David Beckham ahead of the India vs New Zealand semifinal in the ongoing ODI World Cup 2023 at the Wankhede Stadium on Wednesday, the picture of which went viral on social media.
Several stars have reached Wankhede Stadium to watch India and New Zealand fight it out in the World Cup semifinals. From Ranbir Kapoor, Salman Khan and Rajinikanth to Venkatesh Daggubati, Nia Sharma and Madhu Chopra, among others.
Needless to say, actor and wife of Virat Kohli, Anushka Sharma was seen in the stands, as she cheered for her cricketer husband.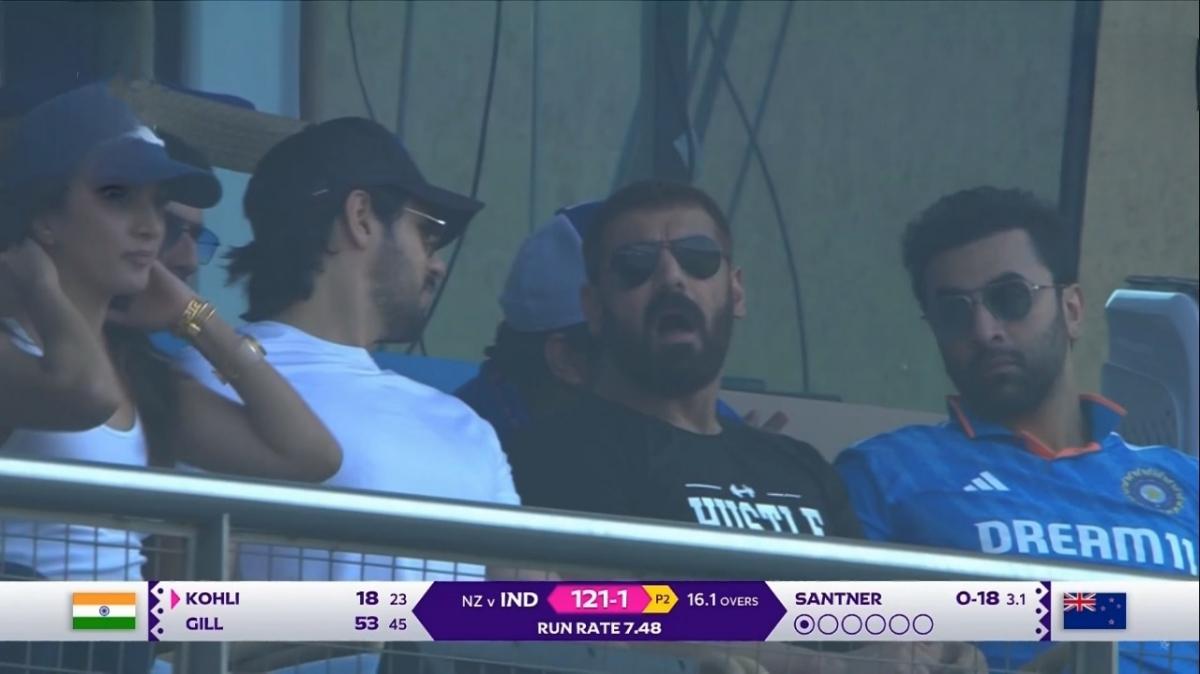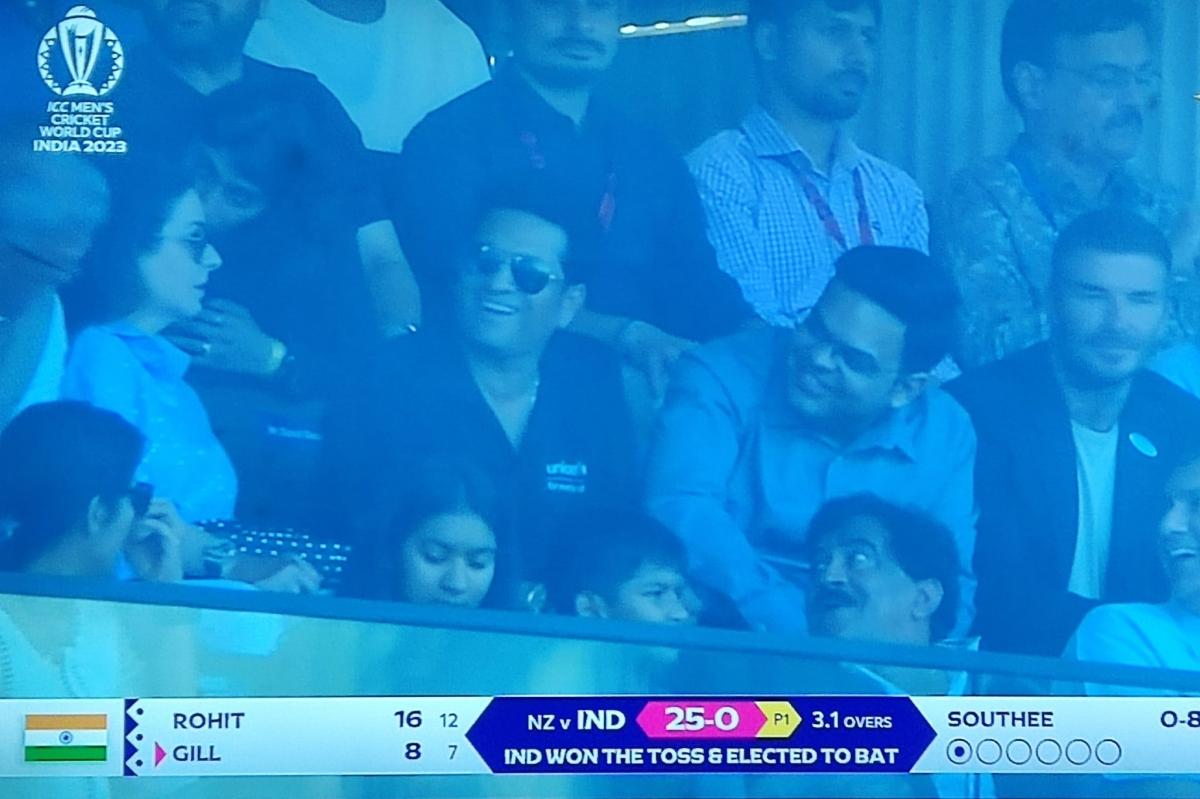 Venkatesh Daggubati also shared a picture with none other than legendary cricketer, Viv Richards.
Kiara Advani and Siddharth Malhotra are seen sitting in the stands. Another clip shows Siddharth and Ranbir Kapoor's candid capture as they are engrossed in conversation.
John Abraham, Sidharth, Kiara,Ranbir are seen sitting toegtehr.
Priyanka Chopra's mother, Madhu Chopra is also not missing the opportunity to watch the World Cup Semi Finals live.
Nia Sharma was also seen at the stadium with her brother and friends. She was caught dancing in the stands.
Take a look at the viral pictures and star-studded stands
India vs New Zealand Semifinal Live update:
Rohit got India off to a flier, scoring 47 in 29 balls
Shubman Gill scored a half-century before getting retired hurt on 79 off 65
Virat Kohli scored his first World Cup knockout half-century.
India's star batter Virat Kohli added yet another feather in his cap. He achieved a massive record in the first semifinal clash of the ODI World Cup 2023 match against New Zealand. After scoring his 80th run in the match, he surpassed Sachin Tendulkar to record the most runs in a single World Cup edition. With 674* runs, Kohli leads the elite list of batters, which was earlier led by Tendulkar with 673 runs. Mathew Hayden (659 runs), Rohit Sharma (648 runs) and David Warner (647 runs) are the other players featured in the list.
History repeats itself and Indians are praying each minute for the big win
If you're an Indian cricket fan you can't forget the night of July 10, 2019, when with a heartbreaking run-out of MS Dhoni, which also marked the great man's last international appearance.
India came short on the reserve day as '40 minutes of bad cricket' sent them crashing out. Virat Kohli couldn't hide his emotions in the press conference.
Four years later, as fate would have it, the two teams are back again and battling it out at Mumbai's Wankhede Stadium. And for both India and New Zealand it's a crucial match.