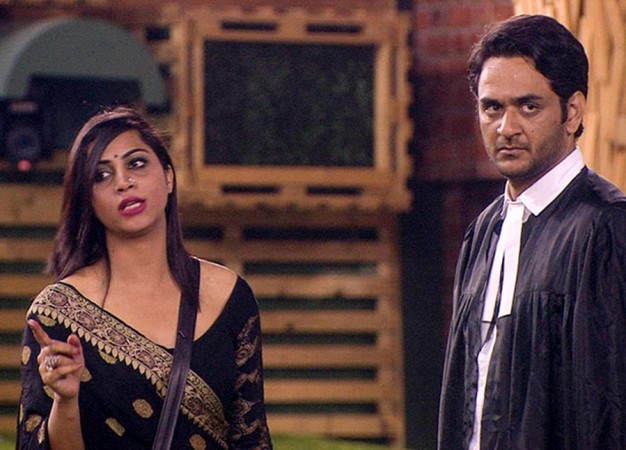 Former Bigg Boss 11 contestant Arshi Khan is disgusted with the makers of MTV Ace Of Space and host Vikas Gupta for allegedly sensationalising the death of the former contestant and YouTuber Danish Zehen who died in a brutal car accident on December 20.
A recent episode which was aired on MTV India showed host Vikas Gupta breaking the death news of the 21-year-old Danish Zehen to the inmates Divya Agarwal, Varun Sood and others. All the contestants broke down on national television after hearing the sad news while Vikas Gupta was seen consoling them where he had said that 'change is the only constant.'
But all this didn't go down well with Arshi Khan who slammed Vikas Gupta and the Ace Of Space team accusing them of telecasting an episode showing raw emotions of the contestants in an attempt to raise the show's TRP by cashing in on Danish Zehen's death.
Arshi Khan vented out her anger on Twitter and said, "Here's why I'm angry. #DanishZehen died & instead of informing his friends off camera, @MTVIndia decided to capture their raw emotions & make a sensational episode out of it. Tribute episode for audiences was good but capturing shocked housemates on camera for trps - disgusting."
She added, "And who says "change is d only constant" when som1 dies? Do u know wat it means? It means "change is good" & "only those who adapt to change will survive". Gupta prayermeet keliye nahi gaya bcz he didnt knw wat to say. Luks like he didn't knw wat to say on camera also."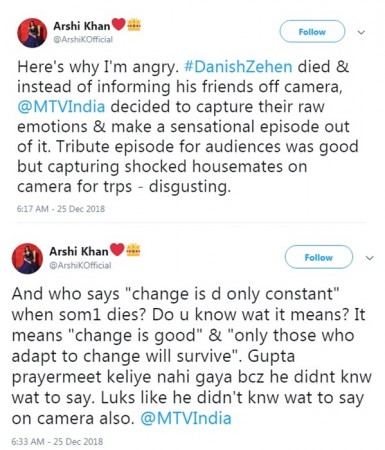 For the uninitiated, Danish Zehen had died in a car accident after he lost control of his car smashing it to a roadside wall on the Sion-Panvel Highway in Navi Mumbai at around 12.30 am on December 20 while he was returning home from a wedding.
Thousands of fans had gathered to pay their last respects to Danish Zehen's at his funeral on December 20 evening.
RIP Danish
We love u Danish #AceOfSpace #vikasgupta #DanishZehen pic.twitter.com/sl4DFsUa6o

— vg ki khoj main|| we support vikas (@Monika6600) December 21, 2018
#DanishZehen will always be an inspiration for entire youths from 700K followers to 1.4M on Instagram and the kind of love and mourn he is getting now shows that "insaan ki value uske jaane ke baad hi pta chalti hai" Life is really unpredictable spread love & peace#RIP Bro pic.twitter.com/XeyAKDWbcW — GAZAL (@Gazal_khanna) December 21, 2018
#DanishZehen car accident footage
Love u #Danish bhai ❤️#RIPDanishZehen #AceOFSpace pic.twitter.com/8V5JIVmmpW

— Ujjwal Mishra (@iujjwalmishra) December 20, 2018