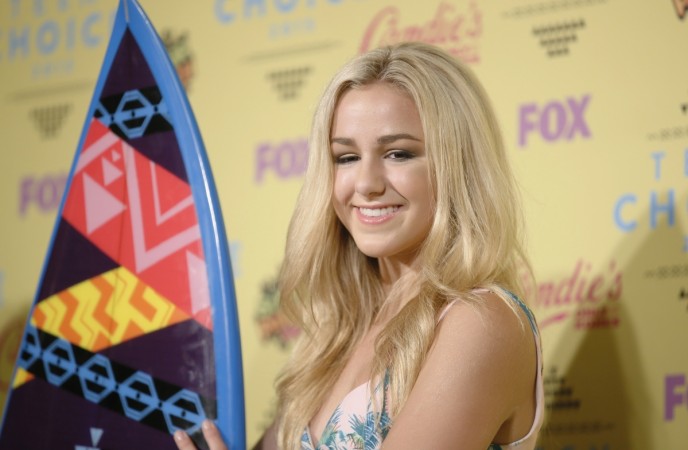 If there were any doubts about Chloe Lukasiak's dance career after leaving "Dance Moms", she has dispelled them. The former member of Abby Lee Miller's Dance Company (ALDC) has moved on, stamped her identity in the dance scene and is successful in her own right.
Chloe, who recently graced the cover of Inside Dance Magazine for their November/December issue, said she is very happy to not be part of the competition.
Since she left Lifetime's "Dance Moms" in 2014, Chloe has found several doors open, from modeling to acting.
The former ALDC dancer even won the award of Choice Dancer at the Teen Choice Awards in 2015, an award many assumed her fierce competitor Maddie Ziegler would win.
Inquisitr quoted her as saying: "When I won, I didn't believe it. I was like 'No. It's not true'. I was blown away the entire time. When I was walking down the stage, I was terrified I would fall."
Whilst giving her speech at the Teen Chocie Awards, Chloe said: "To anyone who has ever been told that they can't do it, that they shouldn't do it, or they aren't good enough â€" ignore it. Do it anyways, and prove them wrong." The dig, many said, was aimed at ALDC coach Abby Lee Miller.
During her time on the reality show, Chloe was compared to her contemporary, "The Book of Henry" star Maddie Ziegler. A Hollywood Life report even claimed Abby Lee Miller didn't give Chloe enough credit for her wins in various dance competitions.
The 14-year-old dancer seems to have moved on from the competitive nature of the art form. Talking to Inside Dance, she said: "I just love going to the studio, filming videos. I mean dancing is more than just getting trophies." However, is Ricky Garcia's girlfriend happy to see her ex-competitor, Maddie Ziegler, exit "Dance Moms" after the current Season 6?
According to US Weekly, Abby Lee Miller's star performer Maddie Ziegler will leave the dance show after Season 6 wraps up. The source said Maddie has grown out of it and wants to act.
So far, Chloe hasn't responded to Maddie's supposed departure from the show.
"Dance Moms" Season 6 Episode 2 airs on Tuesday, 12 January, at 9 pm on Lifetime.