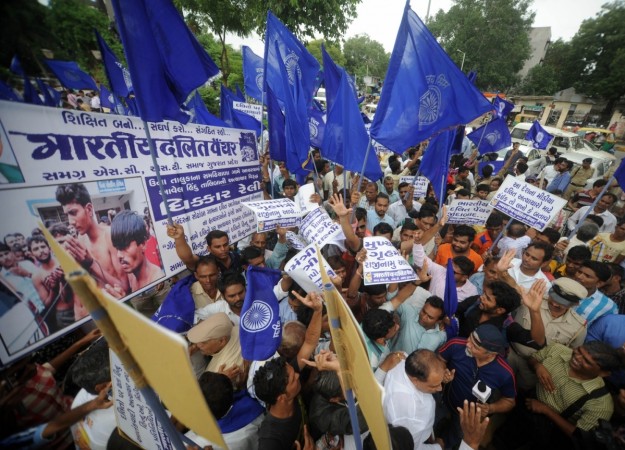 The BJP's former Uttar Pradesh vice-president Dayashankar Singh is currently in the wind after being suspended from all party posts for comparing Bahujan Samaj Party (BSP) chief Mayawati to a prostitute. The party is also firefighting to the best of its ability in Gujarat, where self-appointed gau-rakshak (cow-protection) activists beat up Dalits for skinning a dead cow.
The confluence of these two incidents in the two states has had two big consequences. The first of these was obvious in the Parliament, where the Opposition, and especially the Congress, latched onto these issues to attack the BJP-led NDA government at the Centre. The second of these may not be too evident right now, but the fact that the people beaten up in Gujarat were Dalits and Mayawati being a powerful Dalit leader means the BJP may have badly squandered a rich vote bank just months before the Uttar Pradesh Assembly elections.
Uttar Pradesh is a politically and elctorally significant state, having the distinction of sending the most number of prime ministers to Parliament, including our current one -- Narendra Modi was elected to the Lok Sabha from the Varanasi constituency. It also sends a significant number of people to the Rajya Sabha, where the BJP does not enjoy the numerical superiority it has in the lower house of Parliament, and as a result a lot of its bills get stuck or diluted in the upper house.
Therefore, a significant result in the Uttar Pradesh Assembly elections of 2017 would have given the BJP the power to at least play king-maker in the state, and by extension put more people in the Rajya Sabha who could support its bills.
However, the assault on the Dalits in Gujarat and Dyashankar's statement on Mayawati mean the Dalits may be in no mood to root for Modi or the BJP in the Uttar Pradesh Assembly elections. And while the Congress will look to milk this issue to its full extent in Parliament, the BSP and the Samajwadi Party will bring it up constantly till at least the Assembly elections are over.
The Dalits themselves, meanwhile, will be a jittery lot, not trusting the BJP, especially after yet another crime against them recently -- the honour killing of a Dalit boy in Maharashtra, which is another BJP-ruled state after Gujarat, and all because he had "dared" to love a high-caste girl. And in yet another incident from a BJP-ruled state, a Dalit woman from Haryana was recently gangraped by the same five men who had brutalised her five years ago.
The BJP will have to do some really quick thinking, or hope that its political rivals commit even bigger blunders, in order to get out of this one.