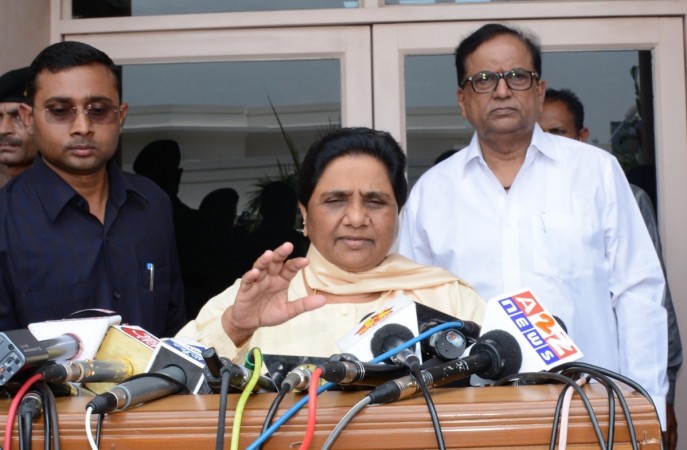 Former Bharatiya Janata Party (BJP) leader Dayashankar Singh who abused BSP supremo Mayawati recently has remained untraceable in Uttar Pradesh. The police raided his residence in Ballia district on Thursday but found no clues on his whereabouts.
Meanwhile, huge protests were organised by Bahujan Samaj Party (BSP) followers in Lucknow's Hazratganj area after Singh compared Mayawati to a prostitute.
The BSP filed an FIR against Singh under the SC/ST Act.
Other political parties like the Trinamool Congress and Congress have also joined BSP in condemning the remarks made by the BJP leader.
To control the damage done by Singh, the BJP suspended him within the day. The comment is believed to have damaged BJP's campaign for Assembly elections in 2017.
In Hazratganj, protestors lined up around the Ambedkar statue and demanded that Singh be arrested. Other parties echoed BSP's calls for Singh's arrest.
"Mayawati is breaking the dream of Kanshi Ram into pieces. Mayawati is selling tickets like a prostitute...Mayawati gives tickets for Rs 1 crore and if there is someone who can give Rs 2 crore than she sells it for Rs 2 crore within an hour. If someone is ready to give Rs 3 crore by the evening, she gives the ticket to him. She is even worse than a prostitute," Singh had said.
"When SP attacked BSP and Mayawatiji 20 years back, BJP had helped her even then. We are the same BJP, we have atoned for Dayashankar's slur. We have taken action. I know how she must feel as a woman. If Mayawatiji is attacked again, we'll continue to stand by her. But if she wants to use this in polls, then she should forget about it," said Union minister and BJP leader Uma Bharti on Thursday to defend her party.
"Legal proceedings should be carried out against Dayashankar Singh," said Congress leader Jyotiraditya Scindia in Lok Sabha on Thursday.
Meanwhile, the BSP has offered a Rs 50 lakh reward to anyone who gets Dayashankar's tongue.
Mayawati had recently in the Parliament raised the issue of Dalit traders being beaten in public for removing the skin of a cow's carcass in Gujarat.
Related
Politicians condemn BJP leader's derogatory remarks against Mayawati
BJP expels Dayashankar Singh for calling Mayawati worse than a prostitute
Gujarat tense after seven attempt suicide to protest assault on Dalits
Uttar Pradesh: State government is grabbing land from poor and Dalits, says BJP President Amit Shah