Vijay Anand, a former associate of leading filmmaker Shankar, is making his debut with Dagaalty. After a lot of drama over the film's release, it is finally hitting the screens, as planned before, on 31 January.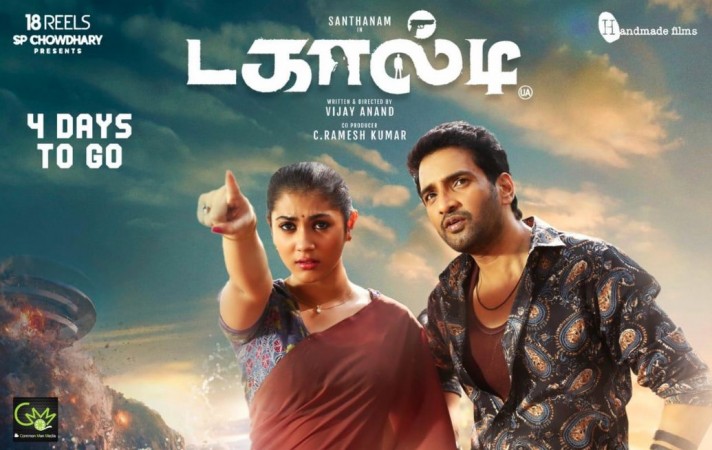 Dagaalty has Santhanam and Rittika Sen in the leads. Yogi Babu will be seen as the hero's side-kick in the flick. Radha Ravi, Santhana Bharathi, Namo Narayana, Manobala, Stunt Silva and others are in the cast. The film has Vijay Narain's music, Deepak Kumar Pathy's cinematography and TS Suresh's editing.
It is an action-comedy film which revolves around a street-smart man played by Santhanam. He comes to the rescue of a girl and the drama that opens thereafter forms the crux of the story.
Hype:
The Santhanam-starrer has generated a decent hype. The confusion around the release date and lack of promotions have made people have low-expectations on Dagaalty. When Santhanam and Yogi Babu are in the cast, cine-goers will never ignore a film and look look forward to see the initial response that it gets from the audience.
If Dagaalty opens to positive reviews, there is every chance of the film doing well at the box office. Moreover, it is a comedy film and this genre will never go out of market. Will the movie surprise the audience? Check it out in their words below:
Siddarth Srinivas: #Dagaalty: A decent comedy which has the combination of @iamsanthanam and @iYogiBabu as the highlight - wished for more scenes between them. The story is everyday stuff but there is a good amount of hilarious one-liners which will help you laugh, catch it for time pass fun!
#Dagaalty Interval: Thanks to Santa's one liners, this has been a pretty watchable film so far, despite the usual storyline. Good music is an added advantage.
Christopher Kanagaraj: #Dagaalty - Santhanam looks lean & weak. His 1 liners didnt click. Typical irritating 'Loosu Ponnu' heroine. Yogibabu's screen space is less, doesnt help. Mokka villain. Decent music. Mega boring screenplay, not even a single comedy scene is gud. Climax episode is torture. Worst!
Trendswood: #Dagaalty 2.5/5 Mediocre... Sathanam's Worst Movie In Recent Times... Few One Line Comedies Are Good. Valakkam Pola Lusu Heroine, Week Villain. Good Story Line But Very Poor Execution...
Rajasekar: #Dagaalty - Enjoyed the combination scenes between @iamsanthanam and @iYogiBabu , these two should do a full-fledged comedy entertainer. They kind of bring back the Goundamani-Senthil charm
#Dagaalty - A harmless watchable romantic comedy entertainer in which comedy works and as usual, the romance is mundane. @iYogiBabu scores big time, @iamsanthanam is convincing. Newbie Rittika Sen is partly cute, partly irritating . Decent, last twenty minutes stretch is fun!
Sterwin Fernandez: #Dagaalty actually movie was full entertainment but frankly to say this movie not sure to come back santhanam.over all movie is (okay
@iamsanthanam
Review Ram: #Dackalti - 2/ 5.
After a watchable 1st hour with a few enjoyable jokes with the help of #Santhanam & #YogiBabu combo, the latter becomes tedious & even hard to tolerate at places. Even the final play is also not-so-funny. Heroine & villain roles are terribly written. #Dagaalty