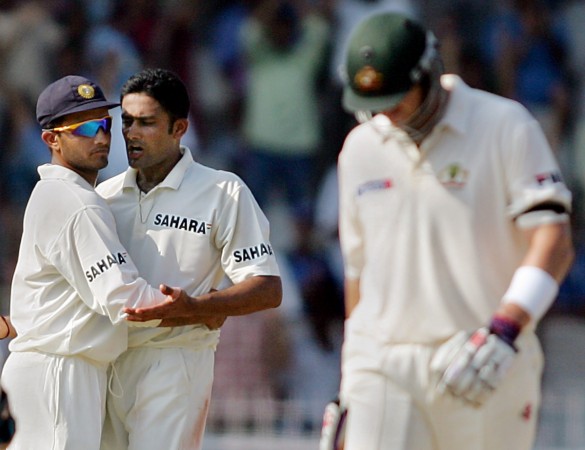 When Sourav Ganguly was the captain of the Indian team, he backed his players. Be it a youngster or a veteran, the Kolkata batsman supported them.
Now, Ganguly has revealed an incident when he had to take "risk" with the Indian selectors for Anil Kumble's inclusion in the Test squad for the tour of Australia in 2003.
Also read: Smith is compared to Tendulkar, Ponting; what about Kohli?
"I will give you the example of Anil Kumble, who was probably the biggest match-winner India has ever produced in the last 20-25 years. I remember attending a selection meeting before the tour of Australia in 2003. I was the captain of the side and I knew, selectors were not very keen on having Anil in that tour," Ganguly said at a "Surf Excel" programme on Thursday (November 30), as quoted by "PTI" new agency.
The left-hander said the selectors had decided to not pick Kumble for India's tour to Australia in 2003-04 but Ganguly had to convince them after deliberating for "couple of hours".
"As I entered the selection meeting, I could sense the selectors had made up their mind to leave Anil Kumble out. I kept on requesting and insisting that he is such a match winner, he is done so much good for Indian cricket. He must be in Australia and the selectors just didn't agree.
"The selectors wanted to pick a left-hand spinner because Australians don't play left-hand spin well, and this went on for a good couple of hours. It was getting late and John Wright came up to me and said Saurav let's finish this and go with what they said and I am sure we will do well," he said.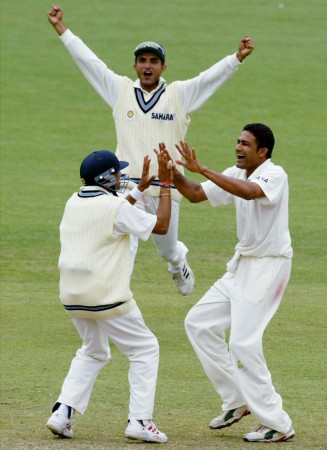 Ganguly, who is now the president of Crickte Association of Bengal (CAB), said he spoke to coach John Wright and told him that if Kumble was not picked he might not play for India again.
"I told John that Kumble has been a champion for last 10 years, he is on his way down at the moment, may be because he hasn't bowled well, but I actually feel it is a temporary thing.
"I told John if you leave Anil, he may not play for India again. I said I am not going to sign the selection sheet till Anil is in the side. The selectors got fed up with me and said if I don't play well, if the team does not play well and if Kumble does not play well, I will the first person to to go before anyone goes. I said fine, I am ready to take that risk and we will see what happens," he added.
Kumble reposed his captain's faith by finishing the four-Test series as the leading wicket-taker with 24 victims. However, he was not picked for the opening Test in Brisbane, which was drawn.
"Anil had an outstanding series, an outstanding year as well. He went on to pick 80 wickets that year, which was the most by any spinner in a calendar year in history of Test cricket," said Ganguly.
The India-Australia Test series in 2003-04 was skipper Steve Waugh's last as an international cricketer. Before the series he had announced his retirement. The rubber was drawn 1-1.