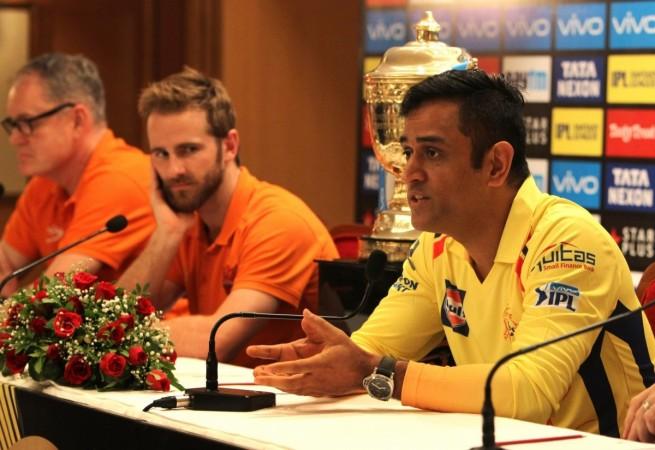 MS Dhoni was at his witty best during a press conference in Mumbai on the eve of the much-anticipated Indian Premier League (IPL) 2018 final between Chennai Super Kings (CSK) and Sunrisers Hyderabad (SRH), scheduled for Sunday, May 27.
Dhoni was cracking up journalists at the presser where the captains and the coaches of the two teams were present as he let Sunrisers skipper Kane Williamson answer a question on leg-spinners after telling the New Zealand captain he had the best leg-spinner in his team.
He also directed a question on "strategy" to head coach Stephen Fleming after insisting coaches "take a big pay cheque" for "all the planning".
Dhoni decided to tackle a question on why he had not bowled senior off-spinner Harbhajan Singh in the Qualifier 1 against the Sunrisers by using an analogy of "cars and bikes".
Below is the transcript of the conversation between the journalist and Dhoni.
Journalist: Hi MS [Dhoni]. How difficult is to not give the ball to Harbhajan Singh, given that he is a seasoned spinner? It happened in the last game.
Dhoni: You know, I have a lot of cars and bikes in my house. I don't ride all at a time. There are times, especially when you have six to seven bowlers in the side, you see the conditions, who's batting and what's needed at that point of time.
Even in the past, when CSK had [Pawan] Negi and [Ravindra] Jadeja, I gave them different slots of bowling. If I don't need somebody to bowl at one point in time, I may not bowl him.
I see what is in the best interest of the team, according to the condition and the batsmen.
Those are the reasons that I always keep in mind, regardless of the individual. At the same time, Bhajji [Harbhajan] is someone who is very experienced when it comes to any format of cricket. It's always tough. But as I said, I would do what is right.
"It's always tough (not to bowl Harbhajan). In the last game, I didn't feel it was necessary to bowl him, and I didn't bowl him."
Both Dhoni and Williamson kept the mood light in the press conference. However, things are expected to heat up in the big final at the Wankhede Stadium later in the evening as Rs 20 crore prize money is up for grabs.
Dhoni's men, who have impressed on their return from two-year suspension, are bidding for their third IPL title. The Super Kings are making their seventh appearance in the final while former champions Sunrisers their second.
Notably, SRH have lost all their three previous meetings against CSK in the ongoing season. They were undone by a brilliant batting effort by Faf du Plessis in the Qualifier 1 at Wankhede on Tuesday, May 22.
IPL 2018: Watch the pre-final press conference