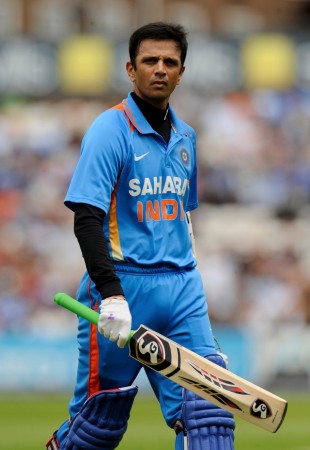 After the departure of Duncan Fletcher as the coach of the Indian cricket team, there were rumours that Rahul Dravid and Sourav Ganguly were favourites to replace Fletcher.
Though no permanent replacement has been announced, Ravi Shastri was announced as the interim coach of the Indian team for the Bangladesh tour. Rahul Dravid, on the other hand was appointed as the coach of the under-19 cricket team.
Dravid, after being handed a new role, is not even thinking about the top post (India's coach) in Indian cricket.
"I am only looking at India A and Under-19 appointment (as coach). I am not thinking about that (national coach's post)," The Times of India quoted Dravid as saying.
He further added that Ravi Shastri and his support staff are doing an excellent job and at present, he does not have the aspirations to go to that level.
"Ravi and his team are doing a fantastic job with India. I have no aspirations to go up to that level at the moment."
Though he might not be interested in the top job at the moment, the Indian A players should make complete use of Dravid and his vast experience of playing international cricket. There can be no better former cricketer than him to guide youngsters to a better future.
Dravid also expressed happiness for being given the role by the BCCI. "It's an important stage for any player - being part of India A, U-19 squads. I am very happy I have been given that job. There will be 2-3 series and I will share my experiences as player with them," he said.
The former Indian captain has always been open to sharing ideas and helping youngsters, which can be understood with his stint in the IPL with Rajasthan Royals. As a mentor, he helped some youngsters in the team flourish as a player.
It is such credentials, which might have prompted the BCCI to appoint Dravid as India A coach. Working with Rajasthan Royals has helped him attain a fair amount of experience in handling the boys as well.
"Definitely. Having spent a couple of years as role of mentor after having spent many years as a player, I have been able to see things from the management and coaching side. The more you do it, the better you become. I am looking forward to it," added Dravid.