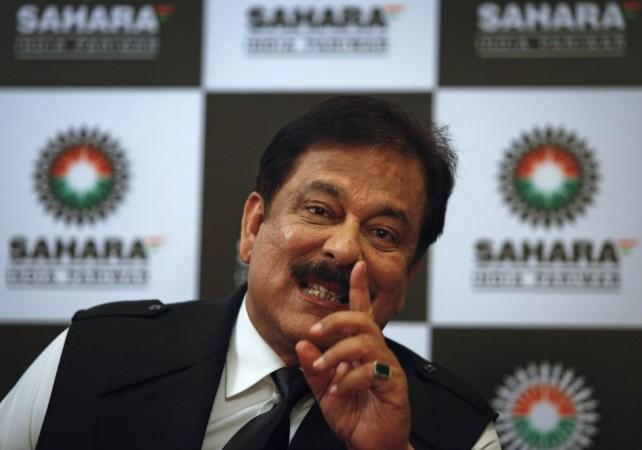 The Supreme Court on Monday granted extension of parole to Sahara Group chief Subrata Roy till August 3. A second such extension is conditional on Rs. 300 crore deposit with Sebi, the securities market regulator.
After nearly two years of arrest, Roy was granted parole on May 6 to attend his mother's funeral. Subsequently, on May 11 the court approved a two-month extension and had asked him to remit Rs. 200 crore with the regulator.
At the end of two months on Monday, the bench of Chief Justice T.S.Thakur and judges Anil Dave and A.K.Sikri heard both parties (Sebi and Sahara) and modified its observations.
Business Standard noted that the court allowed a request by Sahara to sell properties up to 90 percent of their circle rate. These include 19 properties other than the 67 offered to Sebi. The group had complained that the court's earlier ruling blocked sale of assets below the market price. This in turn had limited Sahara to sell and thereby repay.
The bench also allowed the Group to deposit nearly Rs. 200 crore into the Sebi account that was received as a bridge loan from Reuben brothers. It noted that the permission did not indicate any approval of loan terms that Sahara is executing with the lender to raise money out of hotels owned by the group in Qatar.
Sebi told the court that there were few takers for Sahara's assets as they were mired in process difficulties such as stay order from local courts, tax orders, state-specific land buying limits, encumbrances and other issues said the business daily.
The Sahara chief was jailed in May 2014 for continuously failing to comply with a 2012 court order asking him to repay Rs. 17,500 crore that his companies had raised from small investors on the bourses. The court had also put across a conditional bail term then asking Roy to pay Rs. 10,000 crore--half in cash and half in bank guarantee.
While the cash component nears repayment, getting bank guarantee has remained elusive for Sahara.