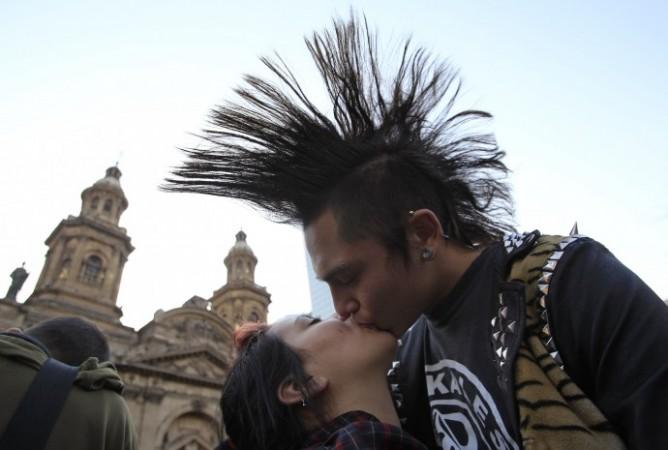 The Madras High Court on Monday ruled that if an unmarried couple of the right legal age indulge in consensual sex then they would be considered as husband and wife.
The legal age for females to get married in India is 18 years, while for males its 21 years.
"This court is of the view that if a bachelor has completed 21 years of age and a spinster is 18 years of age, then they can acquire the freedom of choice as guaranteed by the Constitution. If any couple chooses to consummate their sexual cravings, then that act becomes a total commitment with adherence to all consequences that may follow, except on certain exceptional considerations," Justice C.S. Karnan ruled in a judgment.
"The marriage formalities such as tying of a mangalsutra, exchange of garlands and rings and circling around matrimonial fire pit or registering at a registration office, are to comply with certain religious customs and for the satisfaction of the society. However, if any couple, subject to their attaining the mandatory age of freedom, indulge in sexual gratification, that would be considered a valid marriage," the court said.
The court also said that either party could apply for marital status by supplying documentary proof for a sexual relationship in the Family Court.
"Legal rights applicable to normal wedded couples will also be applicable to couples who have had sexual relationships which are established."
The judgment was passed after a petition was filed by a Muslim woman, Aysha, whose estranged husband, Ozir Hassan, refused to pay her alimony. Aysha, who is a mother of two, in her case said that she and Hassan lived together for five years.
But all of a sudden Hassan deserted the family and refused to pay the alimony ordered by court in 2006. Hassan claims they never got married and the woman was just a co-employee.
However, a Coimbatore family court during the trail found out that the couple lived together when a doctor revealed that the man had signed papers as husband and also gave permission for the woman to undergo a surgery for her second child birth.
The trial court ordered the man to give monthly maintenance of ₹500 each to the children and ₹1,000 as litigation. But the man denied it saying their marriage was not registered.
However, Karnan in his judgment said that their marriage is valid because they lived as "husband and wife under one roof".
"Without legal encumbrance or third party interference or without affecting third party rights, both the petitioner and the respondent lived together as spouses and begot two children," said the judge.