Even though the Indian Space Research Organisation (ISRO) may not be ready to launch its second lunar mission Chandrayaan-2, the organization is clearly making strides in other projects. ISRO is set to launch the GSAT-6A satellite Thursday, March 29.
The 27-hour countdown for the communication satellite launch began at 1.56 pm Wednesday. The GSAT-6A satellite, carried by the GSLV-F08, will blast off from the Satish Dhawan Space Centre, Sriharikota, at 4.56 pm Thursday.
GSLV-F08/GSAT-6A
The 27 Hrs Countdown activities for the launch of GSLV-F08 / GSAT-6A Mission have started at 13:56 Hrs IST on Wednesday, March 28, 2018.https://t.co/YWvgUeyETw

— ISRO (@isro) March 28, 2018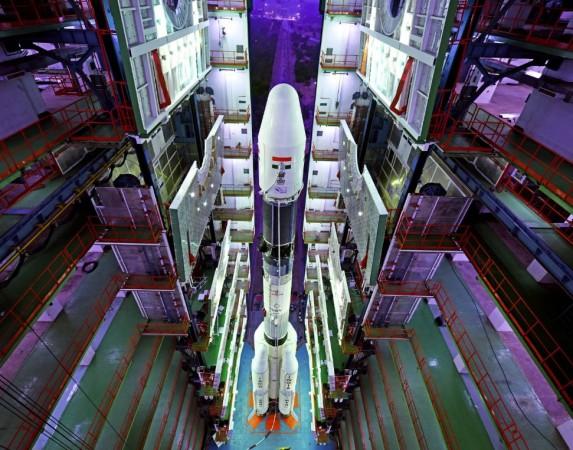 GSLV -F08 / GSAT-6A Mission Fact File
The satellite will be launched by a Geosynchronous Satellite Launch Vehicle (GSLV).
The GSLV rocker weighs 415.6 tonnes and is 49.1 meters tall.
The GSAT-6A satellite will be put into orbit about 17 minutes after the launch, reported IANS.
ISRO said that the GSAT-6A satellite is similar to GSAT-6 but comes with a few improvements.
The organization said that the two improvements include the use of the high thrust Vikas engine and an electromechanical actuation system
ISRO chairman K Sivan also told IANS that the communication satellite's Thursday launch will pave the way for another navigation satellite.
The next launch has been planned for the next fiscal.
Meanwhile, ISRO is also working on its second moon mission, Chandrayaan-2. The space organization was supposed to launch the mission in April, but the lift-off has been postponed to October.
"Chandrayaan 2 will not be in April, it has been changed to October," the Press Trust of India quoted Sivan as saying.
Sivan said that the mission still needs to undergo a few tests, and Chandrayaan-2 will be ready for lift-off only after they have been completed.
Chandrayaan-2 is said to be one of ISRO's most challenging missions and over 100 scientists are working on it. It will carry 13 scientific instruments, which will study the moon. The spacecraft that will weigh about 3,290kg includes an orbiter, a rover and a lander to the moon.
The rover will spend 14 active days on moon's surface
The orbiter will take a month or two to reach the moon's orbit, which is 3,82,000 km away.
The lander will then separate from the orbiter and make a soft-landing.
"The 6-wheeled rover fixed within the lander will get detached and move on the lunar surface," Sivan earlier told the Times of India.
The rover will then spend 14 days on the moon's surface, where it will carry out several tests. Fourteen lunar days is equal to one day on the earth.
The rover will then send images and other information about the moon's surface back to the earth.