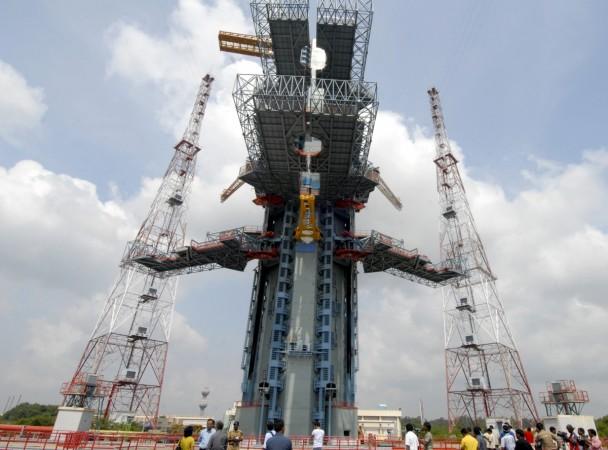 After launching its 100th satellite on January 12, the Indian Space Research Organisation is now gearing up to launch its second lunar mission -- Chandrayaan-2 soon. While the project itself is intriguing, it has now been reported that the mission is cheaper than Hollywood's 2014 sci-fi movie "Interstellar."
ISRO's Chandrayaan-2 mission is said to be worth Rs 800 crore (approximately $123 million) whereas the budget of the Matthew McConaughey-starrer was a whopping Rs 1,062 crore, which is about $165 million.
Not just that, even ISRO's Mars mission Mangalyaan, which was launched in 2013, was worth Rs 470 crore, about $72.4 million, which is much lesser than the budget of Sandra Bullock-starrer Gravity that cost Rs 644 crore ($100 million).
Speaking of the cost of the Chandrayaan-2 mission and what makes it much more economical than Interstellar, ISRO chairman Dr K Sivan told the Times of India: "Simplifying the system, miniaturising the complex big system, strict quality control and maximising output from a product make our space missions frugal and cost-effective. We keep strict vigil on each and every stage of development of a spacecraft or a rocket and, therefore, we are able to avoid wastage of products, which helps us minimise the mission cost."
Chandrayaan-2 Fact File

The Chandrayaan-2 mission is said to be much more challenging than the first one.
This time the spacecraft will be carried by heavy-payload lifter GSLV Mk II, unlike the first time when the spacecraft was launched by a PSLV rocket.
The GSLV Mk II will launch the spacecraft that will weigh about 3,290kg, which includes an orbiter, a rover and a lander to the moon.
The Chandrayaan-2 is being readied at ISRO's satellite centre in Bengaluru
It will carry 13 scientific instruments, which will study the moon
Over 100 scientists are said to be working on the mission.
While an exact date for the lift-off hasn't been announced yet, the mission is likely to take off sometime in April and speaking of it Minister of State in the Prime Minister's Office Dr Jitendra Singh said that this could be one of the best missions by ISRO. He also said that the Chandrayaan-2 is more powerful than NASA's Apollo missions.
"Chandrayaan-2 is one of the most remarkable ISRO missions of 2018 and it will be a world event," Singh, who is in charge of India's space missions, told NDTV. He added that the unmanned mission will add to India's credibility and competitiveness when it comes to space programmes and "packs more power than the Apollo missions by NASA."
He also explained that the Chandrayaan-2 has several scientific capabilities and could send important data regarding the moon back to the Earth. He also explained that the data then "may open up possibilities of future habitation of the moon."
"Chandrayaan-2 will be a breakthrough mission not only for India but for the entire world," he added and also said that it would make Indians "proud."
Chandrayaan-2 is an exhaustive mission and much more challenging and complicated than the first one. Speaking of the mission, Isro chairman K Sivan had earlier told TOI that the Chandrayaan spacecraft will take quite some time to reach the moon's orbit.
Sivan also spoke of the process and said that the lunar module's components are almost ready and scientists are now integrating them. "Once the module is ready, it will have to go through rigorous tests," he added.
While he hinted at an April launch date, Sivan also said that a number of factors have to be taken into consideration and plans also depend on the position of the moon.
Another ISRO official also spoke to Outlook about the cost of Chandrayaan-2 and said: "India is a country where we can't think of spending lavishly such as the NASA or the European Space Agency. India can't spend hefty amounts on scientific exploratory missions."