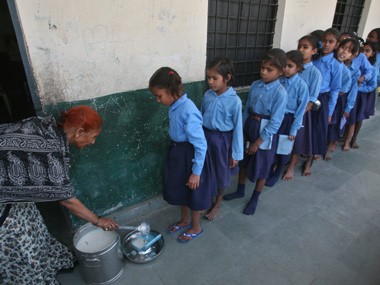 In a shocking incident, three students of Class 1 were chained and paraded around the school by their teacher who also made them clean the school toilet, on Wednesday in Dadar, a surburban area in Mumbai.
According to various reports, the six-year-old students of Antonio DeSilva School were subjected to extreme corporal punishment for fighting in the classroom.
The parents of the one of the three students lodged a complaint against the teacher on Friday alleging that their son was chained, paraded around the school.
"He was very scared when he came home, wouldn't tell us what happened. Finally when he told us, we approached the school authorities but when they did not reply satisfactorily, we registered a police complaint," his parents told CNN-IBN.
The parents also complained that the principle spoke in favour of the teacher who punished the children.
"They chained my son along with other students and paraded them in the school. My son was made to clean the toilets and was locked in a room... The school says that my son is lying and that no such incident has happened," the boy's father told NDTV.
Following the complaint from the student's father, police filed a case against the school headmistress and teacher.
"We have registered a case against the school headmistress and teacher under the provisions of the Juvenile Justice (Care and Protection of Children) Act. We will see (if) some other charges can be invoked. We have not arrested them yet," deputy commissioner of police Dhananjay Kulkarni told Press Trust of India.
Police is recording statements from the student's classmates. Authorities are waiting for the medical report to find out if the child sustained any injuries.