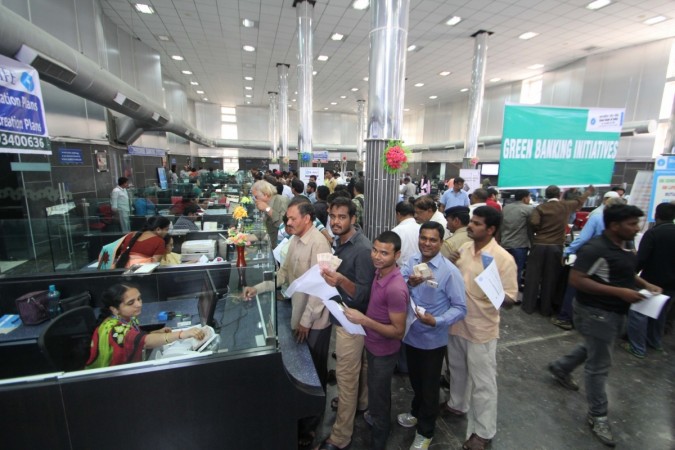 Cooperative banks, once hailed as the backbone of the rural banking system, is under severe stress as businesses at district central cooperative banks (DCCBs) and primary agricultural societies (PACs) have come to a grinding halt post the Narendra Modi government's demonetisation move.
Just after the PM's announcement on demonetisation on November 8, the Reserve Bank of India had asked these rural cooperative banks not to accept old Rs 500 and Rs 1,000 currency note deposits or exchange those notes with new currency notes.
RBI, however, allowed customers to withdraw money from their accounts -- up to Rs 24,000 per week till November 24.
These restrictions have created a near crisis situation for the rural cooperative banks, on which farmers in Maharashtra, Kerala, Uttar Pradesh, Gujarat, Tamil Nadu and Karnataka rely on for financial transactions.
With no forthcoming deposits along with little cash support from commercial banks, the cooperative banks in rural areas are not even able to meet the withdrawal need of customers.
Though the central bank didn't give any reason for such restrictions, weak compliance with know your customers (KYC) norms by DCCBs and PACs is attributed as the reason behind such a decision. Analysts also point out past instances where these banks were misused for turning unaccounted money into white as another plausible explanation for the move.
Meanwhile, with little cash at hand, banking operations in rural cooperatives have been severely impacted since last 10 days.
Not only rural cooperative banks, urban cooperative banks (USSBs) and state cooperative banks (SCBs), which don't have any deposit and replacement restrictions, are also facing similar predicament.
"While the apex bank has been making all efforts to provide liquidity for the nationalised and private sector banks, the common man's cooperative banking sector has been ignored with close to 52 cooperative banks being left out with empty hands over the past two days," UCBs said in a letter as reported by Indian Express.
Reports also suggest that Mumbai District Cooperative Bank has filed a petition in the Bombay High Court against the RBI circular preventing cooperative banks from accepting deposits in demonetised currency notes.