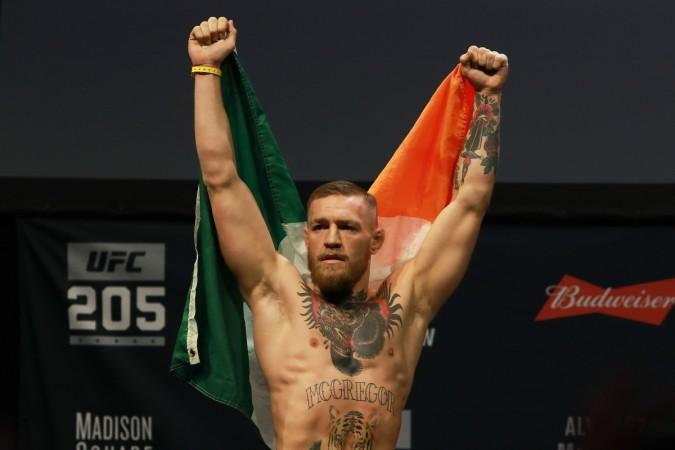 Conor McGregor is currently in police custody after the UFC fighter turned himself in for questioning regarding a "disgusting" wild rampage in New York on Sunday.
The incident involved him attacking a bus carrying competitors from a media event. The attack also injured two fighters so severely that they had to be withdrawn from UFC 223.
McGregor, 29, is expected to be slammed with multiple charges, even though none of them have been filed as of yet. The video of the incident surfaced online and clearly shows him hurling something at the window of the bus, while the vehicle moved slowly in a car park at the Barclays Centre in New York.
UFC fighter Michael Chiesa, one of the injured from the fighter that the bus was carrying, had to be hospitalized post the attack, shared UFC President Dana White. Chiesa was being treated for several cuts to his face – which lead him to later withdraw from his fight against Anthony Pettis.
Flyweight Ray Borg is also reportedly off his scheduled fight Brandon Moreno, after he suffered eye issues from pieces of glass that came from the bus window getting shattered by McGregor's rampage.
"They got down to the loading docks where the fighters were getting on the buses and attacked them, throwing trash cans, dollies, things like that," said Dana White, as News AU reported. "Broke one of the windows, cut Michael Chiesa real bad, cut his hand, cut his face.
"Rose Namajunas apparently was almost hit. She's super upset right now and basically left and walked back to the hotel," she added. "And one of our employees — broke one of our employee's knuckles. Other injuries, and obviously everybody's shaken up when 30 thugs storm a (bus). This is the most disgusting thing that has ever happened in the history of the company."
UFC vice president of athlete development Reed Harris who was on the same bus too, tweeted about the incident but unfortunately deleted them later on. "At hospital with one of my coworkers," wrote Harris, in one of those deleted tweets. "Possible broken hand due to attack by Conor and his gang of thugs. I got cut and showered with glass. We thought we were gonna die".
Cause behind the rampage
Conor's outburst has been linked to a past riff between his close friend and fellow UFC fighter Artem Lobov and Russian fighter Khabib Nurmagomedov's team. The latter was inside the bus, and has now reacted to the incident, telling MMAFighting.com that he was "laughing inside".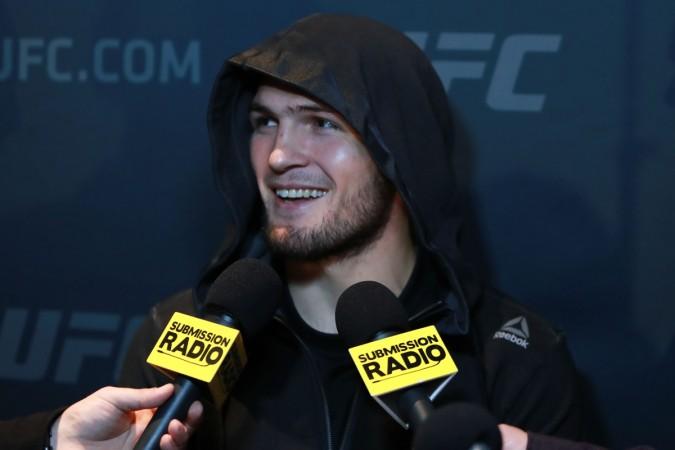 "You broke window? Why? Come inside," he added. "If you real gangster why don't you come inside? This is big history gangster place. Brooklyn. You want to talk to me? Send me location. I am going to come. No problem."
Speaking about the rest of the passengers' reaction, Chiesa's coach Rick Little told MMAJunkie: "Conor went bananas and put a beating on the van that we were in looking for Khabib. A million security guards had to restrain him. Mike's cut up now. He's got marks on him, for sure. I don't think too serious. Everything happened so fast, it was just like we got jumped."
Dana White also shared: "Listen, he's got some beef with Khabib because of the Artem thing that went down," White said. "You don't come into Barclays Centre, attack people in a bus who are fighting the next day, and the worst part is the women who were on the bus."
Conor's career in jeopardy
Speaking of what the aftermath could be for McGregor, with regards to his career, White said: "The police are going to take care of Conor. The police are going to handle Conor, and I know a handful of people here already that are filing lawsuits against Conor McGregor. God knows how many lawsuits he's going to have by the time this is done."
White also said the UFC would strip McGregor of his lightweight title. "What happened today was criminal, disgusting, despicable, makes me sick, and we as an organization need to make sure that this never happens again," he added.