UFC star Conor McGregor has lived up to his 'Notorious' name over the years by showing up as a real badass and bully in press conferences, knocking out his opponents inside the cage and then making a stunning use of social media to further portray his notorious antics.
His son, Conor Jr, could soon be following his dad's steps. The little one is not even a year old, as of now and he has his eyes on gold and everything rich and shining!
In a recent video posted by the UFC lightweight champion McGregor, his son is seen trying to rip off the Mixed Martial Arts (MMA) star's wrist watch.
"A lot of great buzzes in this mad life but none greater or madder than this buzz right here hahah!
My little boy we be fighting over these watches in a few year I think but make no mistake he will be skilled in how to fight so I will have to remain on my toes hahah [sic]," McGregor captioned the post.
The video is utterly cute but we know for a fact that if the little kid is getting attracted to the shining gadgets and devices from so early in his life, then under his dad, he could turn out to be a real 'notorious' figure some day for sure! Also, as confirmed by papa McGregor, Conor Jr will be taught how to fight.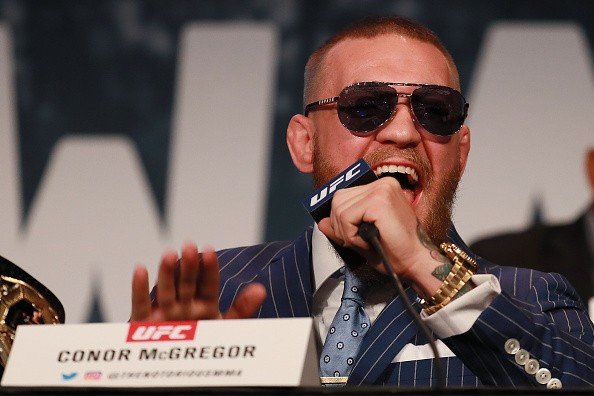 Conor McGregor Jr, which is his only revealed name so far, was born last May. The UFC Lightweight champion wasted no time in revealing photos of his newborn baby, along with partner Dee Devlin.
In a photo posted by his dad on Instagram in 2017, McGregor Junior is seen attempting a left hook punch with a quite interesting guard to cover his chin!
The picture is nothing but a perfectly-timed photography shot, with full of precision, drawing memories from Conor McGregor's famous octagon speech: "Precision beats power, timing beats speed". Having said that, 'McDaddy' captioned the photo quite interestingly.
McGregor is currently facing flak from MMA fans for not giving any update as to when he will be defending his championship next. The 29-year-old Irishman fought last inside the octagon in November 2016 against Eddie Alvarez. McGregor knocked his opponent in the second round via KO/TKO and became the new UFC lightweight champion.
His multi-million dollar boxing match against Floyd Mayweather Jr in August 2017 gave him the biggest payday of his life...and his UFC career also came to a sudden halt.
With a list of opponents like Tony Ferguson and Khabib Nurmagomedov itching to take on McGregor, the ball lies in the court of UFC President Dana White to decide the next outcome.
I love that matchup (against Nurmagomedov), but Tony Ferguson is the interim champion, and Conor and I haven't really figured out when he's coming back and what's going on. So Conor has some big decisions to make here, really quick. If he waits — I don't think Conor wants to fight until August, but if he waits until August or September, that's around two years since the belt has been defended, and that can't happen.

As long as Conor is willing to (book a) fight by March, we could do Khabib versus Tony. We could do Khabib versus Tony, and then the winner fights Conor for the title. Or if Conor doesn't want to fight and wants to sit out until next fall, then we would have to make Khabib versus Tony for the title, not the interim title.

- Dana White to Yahoo! Sports (transcript via MMA Fighting)