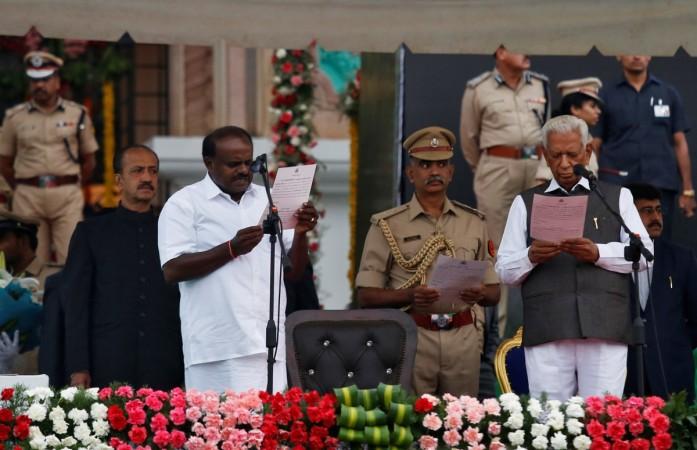 Even as reports claim that the Congress-Janata Dal (Secular) alliance is involved in a bitter infighting over the allocation of portfolios in the newly formed government, the Congress and JD(S) combine has reached a unanimous decision about letting HD Kumaraswamy be the chief minister of Karnataka for the full term.
The alliance, which is expected to announce a power-sharing deal for the newly-formed government in Karnataka on Friday (June 1), has also decided that the two parties will contest the 2019 Lok Sabha polls together.
Besides holding discussions on the allocation of ministerial portfolios to both the members of the Congress and JD(S), the combine has also discussed other aspects like putting together a co-ordination committee, drawing up a common minimum programme (CMP) and forming a stable and fair government, The Times of India quoted Congress general secretary Ashok Gehlot as saying on Thursday (May 31).
The Congress is expected to get 22 of the 34 ministries while the JD(S) will get 12. Of the 34 portfolios, JD(S)'s Kumaraswamy has taken up the CM's post and G Parameshwara of Congress has also taken oath as the deputy chief minister.
From the remaining 32 ministries, the crucial finance ministry is going to the HD Deve Gowda-led party and the home department will be run by the Rahul-Gandhi led Congress.
Meanwhile, Danish Ali, the secretary general of the regional party has clarified why it took 10 days for the newly-formed government to reach a decision.
"The announcement will be a written agreement resolving all issues to run a stable coalition for five years. That is why it has taken so long. We wanted everything to be on paper so that the government could run smoothly for its full term under the chief ministership of HD Kumaraswamy." Ali told TOI.
Ali also met Congress general secretary KC Venugopal in Bengaluru on Thursday for final talks regarding the portfolios.
Earlier, Congress president Rahul Gandhi had spoken to senior party leaders over the phone from the United States and had reportedly given his nod for the cabinet allocation.