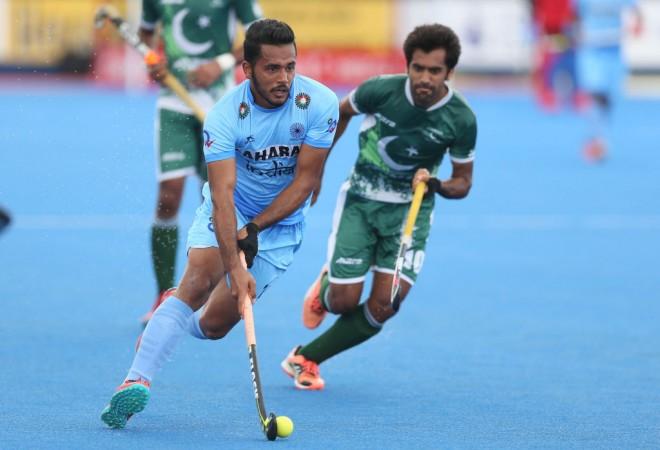 India woke up to the news of another weightlifting gold medal Friday, February 6 after Sanjita Chanu finished on the top step of the podium in the women's 53kg category.
The Manipuri weightlifter had won her second Commonwealth Games gold, beating 53kg favorite and 2014 Glasgow Games gold medalist Dika Toua of Papua New Guinea in the final.
Soon after, India's 18-year-old Commonwealth Games debutant Deepak Lather won a bronze medal in the 69kg category.
The two medals took India to the fifth spot (as on 6pm IST, Friday) as the Asian giants finished the day with four medals, all of them coming from weightlifters.
Meanwhile, India women's hockey team came back from their opening day's loss to defeat to thrash Malaysia 4-1 in a Group A match Friday.
In squash, 2014 Asian Games individual medalist Dipika Pallikal lost her women's singles R16 match while Joshna Chinappa progressed to the quarter-final.
There was good news for boxing fans as Amit Phangal and Naman Tanwar eased into the quarter-final stage.
India vs Pakistan hockey in Gold Coast
A lot of anticipation surrounds Day 3 as India men's hockey team will open their Gold Coast campaign against arch-rivals Pakistan in a Pool B clash.
On the other hand, three more weightlifters, including reigning 77kg gold medalist Sathish Kumar Sivalingam, will be in action Saturday.
In badminton, the Indian unit will be in quarter-final action of the Mixed Team event.
Check out the full schedule of events involving Indian athletes on Day 3 of Commonwealth Games 2018.
Event: Artistic Gymnastics, Men's Individual All-Around Final
Athlete: Yogeshwar Singh (Rings)
Time: 4:39am IST
Event: Artistic Gymnastics, Women's Individual All-Around Final
Athlete: Pranati Das (Uneven Bars)
Time: 12:11pm IST
Event: Badminton Mixed Team Event Quarter-final
Time: 6:31am IST or 1:01pm IST.
Event: Basketball, Men's Preliminary Round Pool B
Teams: India vs England
Time: 1pm IST
Event: Basketball, Women's Preliminary Round Pool B
Teams: India vs Malaysia
Time: 2pm IST
Event: Boxing, Women's 60kg Round of 16
Athletes: Sarita Devi (IND) vs Kimberly Gittens (BAR)
Time: 2:02pm IST
Event: Boxing, Men's 56kg Round of 16
Athletes: Hussamuddin Mohammed (IND) vs Boe Warawara (VAN)
Time: 3:17pm IST
Event: Boxing, Men's 69kg Round of 16
Athletes: Manoj Kumar (IND) vs Kasim Mbundwike (TAN)
Time: 3:47pm IST
Event: Cycling, Men's Sprint Qualifying
Time: 9:02am IST
Athletes: Sanuraj Sanandaraj, Sahil Kumar, Ranjit Singh
(Qualifying will be followed by final rounds)
Event: Cycling, Women's 25km Points Race Finals
Athlete: Manorama Devi, Sonali Mayanglambam
Time: 2:46pm IST
Event: Cycling, Women's 500m Time Trial
Athletes: Deborah, Aleena Reji
Time: 3:29pm IST
Event: Men's Pool B Hockey
Teams: India vs Pakistan
Time: 10am IST
Event: Lawn Bowls, Men's Triples Section A - Round 5
Teams: India vs South Africa
Time: 4:31am
Event: Lawn Bowls, Women's singles Section D - Round 5
Athletes: Pinki (IND) vs Pauline Blumsky (NIU)
Time: 4:31am IST
Event: Lawn Bowls, Men's Pairs Section D - Round 5
Teams: India vs Norfolk Island
Time: 7:30am IST
Event: Lawn Bowls, Women's Fours Section B - Round 5
Teams: India vs Fiji
Time: 7:30am IST
Event: Squash, Women's singles Quarter-final
Athletes: Joshna Chinappa (IND) vs Joelle Kings (NZL)
Time: 3pm IST
Event: Squash, Women's Singles Classic Plate Quarter-final
Athletes: Dipika Pallikal Karthik (IND) vs Samantha Cornett (CAN)
Event: Table Tennis, Women's Team Quarter-final
Teams: India vs Malaysia
Time: 5am IST
Event: Table Tennis, Men's Team Quarter-final
Teams: India vs Malaysia
Time: 7:30am IST
Event: Weightlifting, Men's 85kg Final
Athlete: Venkat Rahul
Time: 2pm IST
Event: Weightlifting, Men's 77kg Final
Athlete: Satish Kumar Sivalingam
Time: 5am IST
Event: Weightlifting Women's 63kg Final
Athlete: Vandana Gupta
Time: 9:30am IST
Live streaming information and TV channels - Commonwealth Games 2018
India: TV - Sony Six, Sony Ten 2; Live stream: Sony Liv
Indian sub-continent: Ten Sports
Australia: TV - Channel Seven; Live stream: 7CommonGames
UK: TV - BBC; Live stream: BBC online, Red Button
US: ESPN
South Africa: TV - SuperSport Six; Live stream: SuperSport live