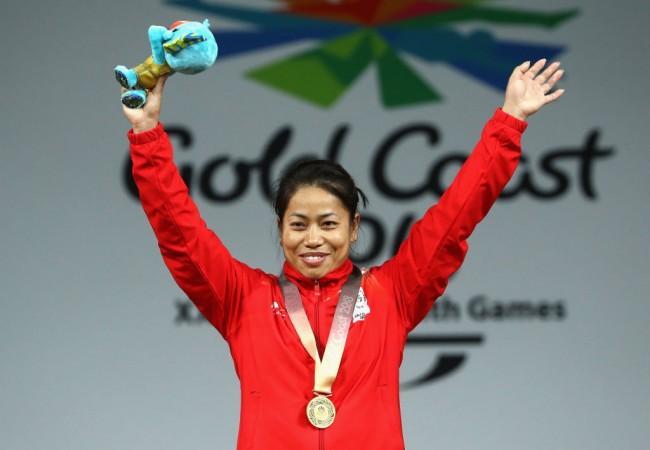 Twitter users were ecstatic after India's Khumukcham Sanjita Chanu won the country's second gold medal in the ongoing Commonwealth Games 2018 in Gold Coast on Friday, April 6.
"Another women shines, another gold," a person tweeted.
Sanjita and her younger compatriot Mirabai Chanu Saikhom have indeed given the country a golden start at the quadrennial multi-sport event in Australia.
A day after Mirabai made light work of the Commonwealth Games record in the women's 48kg category to open India's gold medal tally, Sanjita added to it by finishing on the top step of the podium in the women's 53kg category with a total of 192kg.
Notably, it was also Sanjita's second yellow metal-winning performance at the Commonwealth Games as she had topped Mirabai to win the 48kg Gold in Glasgow in 2014 after which she jumped weight category.
While Mirabai left her rivals way behind by winning the 48kg event by a margin of 26kg Thursday, Sanjita's event went down the wire as the then-defending champion Dika Toua of Papua New Guinea was not willing to go down without a fight.
Watch highlights: India's Sanjita Chanu wins 53kg weightlifting Gold medal in CWG 2018
Sanjita, much like Mirabai, broke the Commonwealth Games record in Snatch with a lift of 84kg in her final attempt, which gave her a 3kg-cushion over Toua. With a 104kg-lift in her first Clean and Jerk attempt, the 24-year-old Manipuri lifter set the bar high for her rivals.
She stretched the gap over her rivals further by lifting 108kg in the second attempt. However, in a bid to break the Toua's Games Record of 193kg (total), Sanjita attempted 112kg in her final attempt and eventually found no success.
Toua tried to make use of the opportunity and attempted a gold-medal winning 113kg in her final attempt. However, the 33-year-old veteran was unable to complete the lift despite registering a good clean, much to the respite of Sanjita who was anxiously watching on.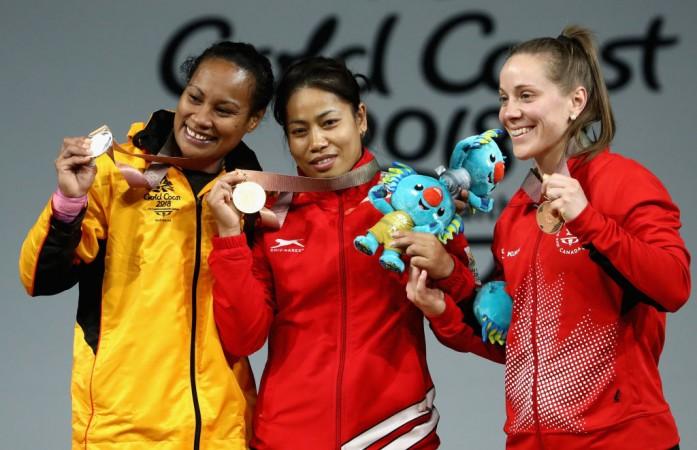 In the end, Sanjita was able to outclass Toua with a 10kg-difference. Canada's Rachel Leblanc-Bazinet won the Bronze in the 53kg weightlifting event with a 181kg-lift.
India are now on the fourth spot of the medal table, thanks to the gold medal-winning efforts of the Manipuri weightlifters.
IBTimes India has compiled a list of reactions to Sanjita's second Commonwealth Games gold medal.
Another one! Sanjita Chanu lifts 192 kg to claim Gold? in the 53 kg Women's #GC2018Weightlifting event on Day Two at #GC2018 . #ShareTheDream  #MissionGoldCoast ?

— JSW Sports (@jswsports) April 6, 2018
Bhartiya Naari Sab par Bhaari. One more Gold. Congratulations #SanjitaChanu for winning our second gold in #GC2018Weightlifting in the women's 53kg category. #CWG2018
Her second CWG gold after the 48kg one in Glasgow. Proud of you champion. pic.twitter.com/Xnms7T6Byz

— Virender Sehwag (@virendersehwag) April 6, 2018
Congratulations #SanjitaChanu for winning the second gold medal for India at the #CWG2018 #GC2018 !We are proud of you!

— Suresh Prabhu (@sureshpprabhu) April 6, 2018
Twice is always a charm!

What a great start to this morning. Congratulations Khumukcham Sanjita Chanu on keeping up your excellent track record of being a?winner at #CWG! After a Gold in Glasgow in 2014, a Gold in weightlifting at #CWG2018 as well! Very proud! #SanjitaChanu pic.twitter.com/KpLGR2GSfN

— Rajyavardhan Rathore (@Ra_THORe) April 6, 2018
Good news to start the day. Another Gold! #SanjitaChanu

— Harsha Bhogle (@bhogleharsha) April 6, 2018
SANJITA CHANU WINS GOLD MEDAL FOR INDIA??

- Lifts 192kg?️‍♀️
- 53kg Gold ?
- ??'s 2nd gold at #GC2018 

Nation is proud of you #SanjitaChanu

— Kuldeep Bishnoi (@bishnoikuldeep) April 6, 2018
another day, another Chanu, another record, another gold.#SanjitaChanu #CWG2018

— Nikhil Naz (@NikhilNaz) April 6, 2018
Another woman shines. Another gold. #SanjitaChanu #meredeshkiladki #CommonwealthGames2018 #GoldCoast2018 #heavyweights

— Vishakha Singh (@vishakhasingh) April 6, 2018
#CommonwealthGames2018 2nd gold another superb performance by Our super women #SanjitaChanu congrats

— Sachin Rana (@Im_sachinRana) April 6, 2018