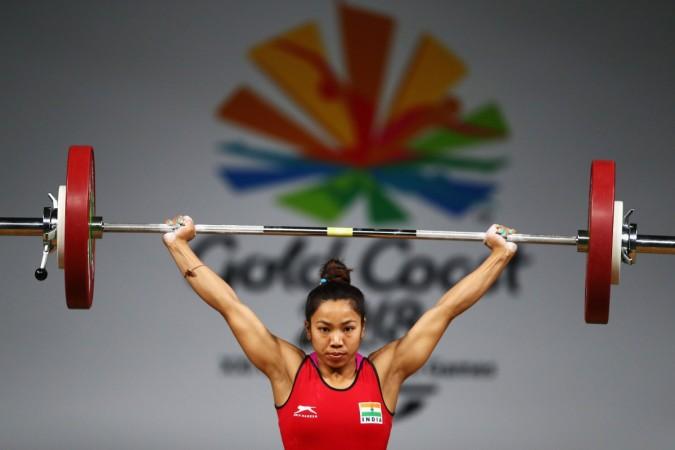 Indian weightlifter Mirabai Chanu eased her way to the top step of the podium at Commonwealth Games 2018 on Thursday, April 5. Her impressive performance left everyone mesmerised, with one television commentator saying, "You have been witnessing weightlifting of the highest order. Will there be a better performance in weightlifting in the Games? It's going to take something special to beat that."
Such was Mirabai's dominance in the 48kg weightlifting event, she managed to break the Commonwealth Games record in all her six successful lifts. She ended up with a record-breaking total of 196kg, thereby clinching India its first Gold medal in Gold Coast.
Notably, this was Mirabai's second Commonwealth Games medal as she had won a silver medal at the 2014 edition in Glasgow. Her gold medal-winning performance came hours after Gururaja won a silver medal in the 56kg men's weightlifting event.
Mirabai, the reigning world champion, lifted 86 in Snatch, her personal best, and was 10kg clear of nearest rival Marie Hanitra Ranaivosoa, who won the Silver in the snatch. With 80, 84 and 86kg-lifts, the Manipuri woman set three Games' records in a span of six minutes.
She continued her dominance as she achieved her personal best — 110kg in the Clean and Jerk as well. Her tally of 196kg was her personal best and it was 26kg clear of the silver medalist.
Sri Lanka's Dinusha Gomes took home the bronze medal with a total lift of 155kg.
Notably, Mirabai had qualified for the Commonwealth Games after winning the World Weightlifting Championships in Anaheim, the United States in December 2017. She had achieved her then personal best of 194kg, which also stood as the national record until Thursday.
IBTimes, India has compiled a list of reactions to Mirabai's record-breaking show in Gold Coast on Thursday.
Every lift from her broke a CWG record. Nari Shakti at its best. Super proud of #MirabaiChanu for winning the first Gold for India. #CommonwealthGames2018 pic.twitter.com/C6NavwLfQ0

— Virender Sehwag (@virendersehwag) April 5, 2018
Congratulations #MirabaiChanu for #Gold! #CWG2018 #GoldCoast #ProudMoment pic.twitter.com/EgiFTDXywf

— Mary Kom (@MangteC) April 5, 2018
Congratulations #MirabaiChanu on winning #Gold and setting a new record in the women's 48kg weightlifting category at the #CommonwealthGames2018 @GC2018.

— Devendra Jhajharia (@DevJhajharia) April 5, 2018
Perfect lift! ? Heartiest congratulations World Champion #MirabaiChanu for gold medal. Proud Indian ?? #GC2018 pic.twitter.com/c3gFKtTDyE

— Sumit Patil ?? (@mr_sumit11) April 5, 2018
#MirabaiChanu
This is not even a competition. 26kg difference! You brought a smile to all of us. CONGRATULATIONS pic.twitter.com/esyRAZH3ND

— A T Nana Patil M P (@atnanapatilmp) April 5, 2018
Mirabai sends the crowd into raptures. 3 lifts, 3 commonwealth records - best being 86kg. Very high quality lifting #GC2018Weightlifting #GC2018

— Mihir Vasavda (@mihirsv) April 5, 2018
MIRABAI CHANU, YOU BEAUTY!!!!

— Shankar (@shanky11173) April 5, 2018
Women Power has shown its wings Again. Heartiest Congratulations to the Golden Girl, weightlifter #MirabaiChanu for winning the first Gold medal for the nation, with the record breaking lift at #CommonwealthGames2018. Moment of pride! #CWG18 pic.twitter.com/CdQVzVkjkL

— Harsh Sanghavi (@sanghaviharsh) April 5, 2018
Woke up to the news of ?? winning its first medal at #GC2018 ! Excellent work by #Gururaja. Congratulations, #MirabaiChanu for giving India it's first gold medal in #GC2018. I am sure this is just the beginning for many more to come. My best wishes to everyone participating. pic.twitter.com/Ac0XWlI4GZ

— Suresh Raina (@ImRaina) April 5, 2018