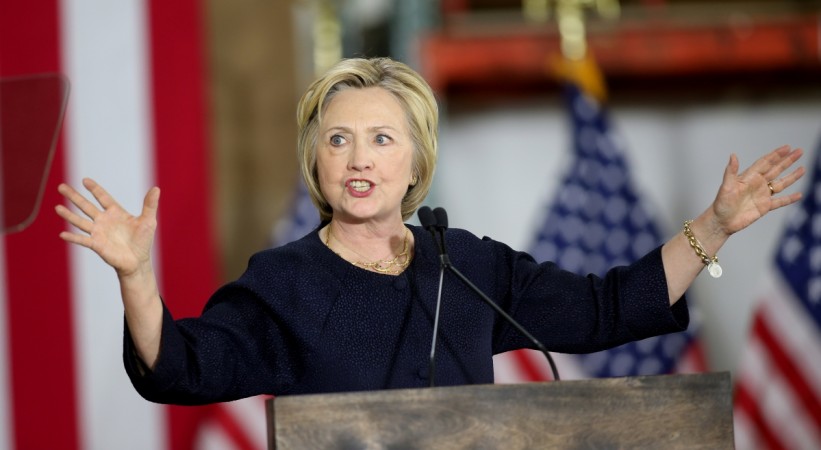 Hillary Clinton, the Democratic nominee, won the District of Columbia primary (Washington D.C.) on Tuesday. After winning the final Democratic primary with 79 percent votes, Clinton met Senator Bernie Sanders to find a common ground in the presidential race against Donald Trump, the presumptive Republican nominee, the New York Times reported.
The D.C. primary concludes the four-month state-wise battle, which began on February 1 in Iowa, for the Democratic party nomination, Reuters reported. Last week, Clinton was named as the Democratic nominee for the U.S. presidential race after she garnered the support of 2,383 Democratic superdelegates.
Through the meeting with Sanders, Clinton hoped to gain his endorsement. It is not clear whether Sanders is seeking "policy concessions" or "political promises."
Bernie Sanders under pressure
Clinton's party rival Bernie Sanders is under pressure to give up his political campaigning and support Clinton and help unite the party, but has refused to bow down. The U.S. senator from Vermont hopes to make a point at the Philadelphia convention next month.
During a news conference on Tuesday, Sanders said he wanted to push his agenda on reducing inequality, curbing money in politics and "reining" Wall Street, Reuters added.
Sanders aides have signalled that he is not expected to support Clinton "immediately," CNN reported.
"It should be amicable and hopefully constructive," a person close to Sanders was quoted as saying by reporters, CNN added.
U.S. President Barack Obama last Thursday formally endorsed Clinton. Obama, in a video message, declared "I am with her." In addition, he also said, "tens of millions of Americans made their voices heard. Today I just want to add mine."