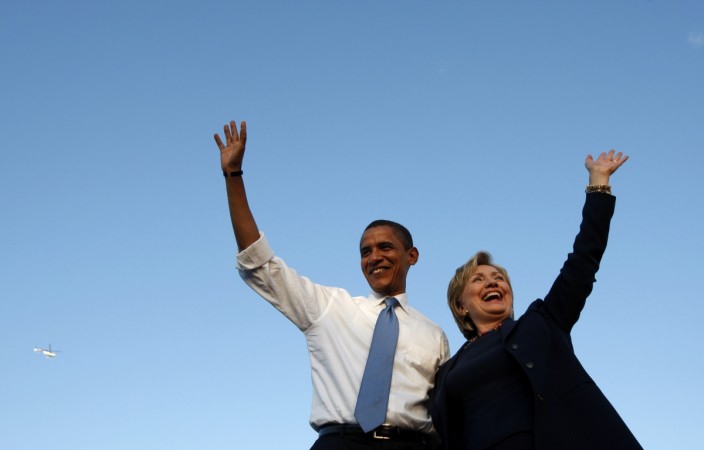 Hilary Clinton, the Democratic U.S. presidential nominee, has received backing from President Barack Obama for the White House bid. Obama on Thursday formally endorsed Clinton to succeed him.
Obama in a video message declared "I am with her." In addition, he also said, "tens of millions of Americans made their voices heard. Today I just want to add mine," the Hindu reported.
The president also said he there was no other person as qualified as Clinton to hold the office.
The endorsement comes at a time when there are concerns over unity in the party.
In her response to President Obama's support, Clinton in a tweet said she "was fired and ready to go."
U.S. Senator Elizabeth Warren of Massachusetts also backed Clinton the same day. In an interview with MSNBC's "The Rachel Maddow Show," she said Republican presidential nominee Donald Trump was "a genuine threat to the country," Reuters reported.
Clinton on her part said she had the highest regard for Warren, who is a fiery critic of Wall Street and she was "pleased to have her good ideas and support."
Honored to have you with me, @POTUS. I'm fired up and ready to go! -H

— Hillary Clinton (@HillaryClinton) June 9, 2016
Sanders refuses to bow out
Following Obama's endorsement, Clinton's rival Bernie Sanders has refused to bow out before the final Democratic primary, which will be held next week. Obama reportedly held a meeting with Sanders in the Oval office in an effort to play peace-broker, while attempting to coax Sanders to "recognise" Clinton as the nominee, the Hindu added.
Sanders, although reluctant to give up just yet, told reporters he would work with Clinton to defeat Trump.
President Obama, whose term will soon come to an end, will appear with Clinton on the campaigning trial next week in Wisconsin.
"She's got the courage, the compassion, and the heart to get the job done." Watch President Obama endorse Hillary.https://t.co/DzKgMFgdmP — Hillary Clinton (@HillaryClinton) June 9, 2016