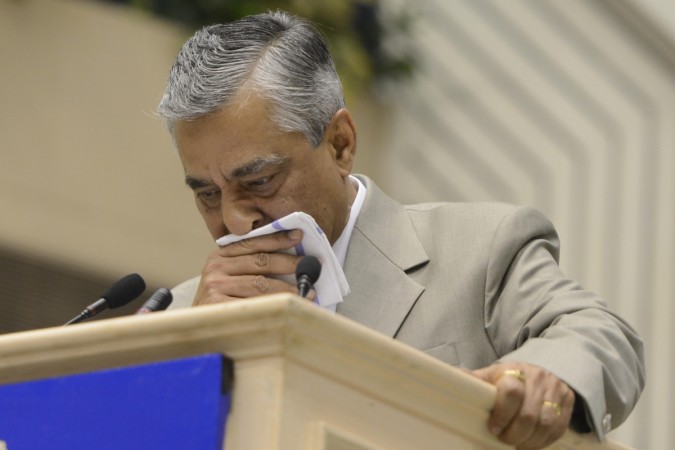 Chief Justice of India (CJI) TS Thakur on Saturday lashed out at Prime Minister Narendra Modi and his government for their callous attitude towards the issue of filling vacancies for 500 posts of judges and providing adequate infrastructure. Thakur said that courtrooms were lying vacant as there is a shortage of 500 judges.
Thakur said that the judiciary was in favour of forming tribunals as it would ease court duties. However, the problem is in the inadequate infrastructure provided to the tribunals.
"Tribunals are not equipped and are lying empty. Today, a situation has come that when no retired Supreme Court judge wants to head the tribunal. I am pained to send my retired colleagues there. Government is not ready to give proper facilities. Vacancy apart from infrastructure is a major concern for the tribunal," Thakur said.
"Today, we have a situation where courtrooms are locked because there are no judges. For example, Karnataka where one floor is shut. Why don't you lock the courts and lock out justice? Executive inaction is decimating the institution," the CJI added.
There have been tensions between the government and the apex court after the Supreme Court struck down the National Judicial Appointments Commission (NJAC) Act that was introduced to bring an end to the over 20-year-old tradition of judges appointing judges under the collegium system with the Centre having no say in the process, the Indian Express reported.
The SC had hit out at the government on October 28 for its failure to appoint judges in several high courts despite the collegium having cleared a few of the names over nine months ago.
Justice Thakur had told Attorney General Mukul Rohtagi: "You can as well close down the courts. Close down justice."
Justice Thakur had addressed a joint conference of chief ministers and chief justices of high courts in April where he requested the government to upgrade the judicial infrastructure and look into the issue of the lack of judges in courts.
Justice Thakur also broke down in the presence of PM Modi saying that he regretted the "inaction" on the Centre's part in providing adequate judicial infrastructure and appointing more judges to deal with the "avalanche" of cases.
However, Union Law minister Ravi Shankar Prasad denied all allegations and said: "We respectfully disagree with him. This year, 120 judges were appointed."