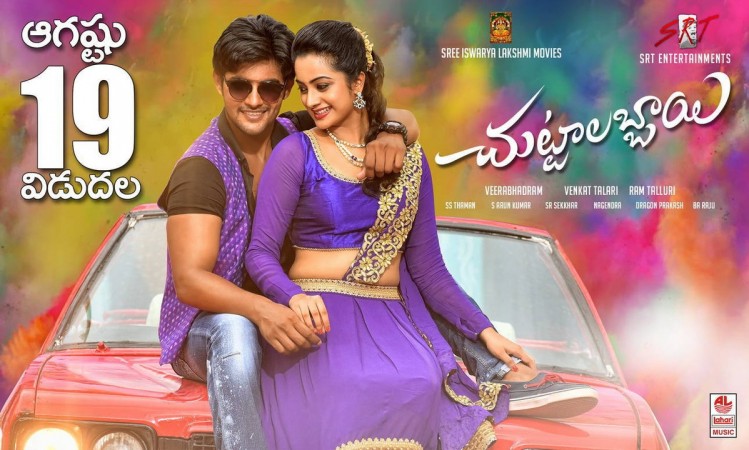 Director Veerabhadram's Telugu movie "Chuttalabbayi" (also spelled as "Chuttalabbai") starring actor Aadi and newbie Namitha Pramod, has received mixed reviews from the audience.
Read: Aatadukundam Raa Movie Review
"Chuttalabbayi" is an out-and-out entertainer with all the mass elements like action, romance and comedy. Sreedhar Seepana has written the story and screenplay for the movie, which revolves around a recovery agent named Recovery Babji, who accidentally gets involved in a problem. How he finds a way out of this problem forms the crux of the story.
The audience said "Chuttalabbayi" has a routine story, but its screenplay, which is laced with all commercial ingredients, make the film an interesting watch. Some comedy, action and romance episodes Aadi-Namitha's chemistry keep the viewers engaged and entertained throughout the movie.
As Recovery Babji, actor Aadi has delivered a good performance in "Chuttalabbayi" and he has shown lot of maturity and improvements in his acting when compared to his previous movies. Malayalam actress Namitha Pramod, who has forayed into Tollywood, has done a good job and she impresses film goers with her glamour.
Posani Krishna Murali, Ali, Prudhvi Raj Raghu Babu and Shakalaka Shankar impress the viewers with their comic timing. Aadi's father Sai Kumar, Abhimanyu Singh, Vamsi Krishna, who have essayed important roles, have done justice to them and their performance are also among the assets of the movie, say the audience.
"Chuttalabbayi" has decent production values and Thaman's music and well-choreographed action sequences and exotic locales are the attractions on the technical front, add the viewers. We bring to you some filmgoers' verdict on the film shared on Twitter. Here is live update "Chuttalabbayi" movie review by audience:
Telugu360 ‏@Telugu360
.@Aadi_Offl 's #Chuttalabbayi interval report: below average stuff. Mediocre comedy. Hackyned action episodes. Aadi and Namitha are ok. #Chuttalabbayi final: mediocre second half. Easily avoidable fare. No major plus points. Might end up as a disaster. T360 rating 1.5
Cinemagala ‏@cinemagala
#Chuttalabbayi starts with a series of car robberies. No lead characters introduced yet. @Aadi_Offl @imNamitha. @Aadi_Offl makes a simple entry. #Chuttalabbayi. Time for the first song party party #Chuttalabbayi. Prudhvi makes an entry as Mr.Ego #Chuttalabbayi. 30 min into the film and #Chuttalabbayi going flat till now. Heroine makes an entry now in the second song #Chuttalabbayi. @imNamitha has been introduced after the first 30 min. #Chuttalabbayi. #Chuttalabbayi going on with some forced comedy. Doesn't seem to be working out as expected. Palamuri palapitta song on now. And to end what seems like a first half that lasted forever, #Chuttalabbayi takes a small twist. Pretty average stuff. Time for the second half #Chuttalabbayi. Sai Kumar makes an entry in the second half. #Chuttalabbayi. Predictable second half as well for #Chuttalabbayi .
Survi ‏@PavanSurvi
#Chuttalabbayi - Sometimes its close to almost dreadful. A consistent regression process, on scene-by-scene / dialogue-by-dialogue basis In Short, #Bhai is a better film.. #Chuttalabbayi
Telugu Critic ‏@southfdfsbb
#Chuttalabbayi yet another disaster after Thikka! Worst movie, not at all funny comedy scenes. Boring screenplay. Walkout in 45 mins. 1/5*