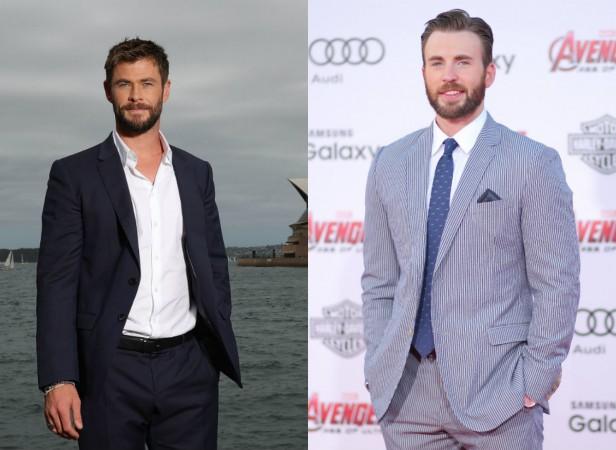 There seems to be a hilarious "war" between two of the most handsome Avengers – Chris Hemsworth and Chris Evans. The Thor actor and Captain American actors were seen having a small scene together in Avengers: Infinity War when Thor reaches Wakanda to stop Thanos from snapping his Infinity Stone-studded hand.
In the small interaction, the Cap asks the God of Thunder if he got a new haircut while Thor compliments Steve Rogers' bearded look. While the scene quickly moved to the War between the Avengers and Thanos' allies, it seems like Thor actor is not letting go of that moment so easily.
The actor brought the reel life scene to real life and made sure that fans and Evans got the message Hemsworth was the original bearded Chris of the Avengers world.
"I'd like to say I was the original, if that means anything. [Chris Evans] certainly, I feel like, copied me. Quite cheaply," Hemsworth told Esquire. In Infinity War, Evans sports a beard and long hair, similar (not same) as to Hemsworth.
But the actor should be glad that Chris will be back to his original Captain America look (from The Avengers) judging by the leaked pictures. Regardless of the amusing rivalry, Hemsworth revealed that Evans is the closest Avenger friend Hemsworth has.
The actor also revealed his equation with other Chris's in the industry. "I have different affections for different reasons. Chris Pine is my son, on screen, with our Star Trek history. Chris Evans is probably my closest Avenger friend. And Chris Pratt and I, it's the freshest, newest friendship. So I'm thankful for all of their high-fives and good times that we've had," he shared.
Hemsworth will soon share screen space with three of those Chrises in Avengers 4. The movie will soon return to the sets to wrap up reshoots and Hemsworth could be heading back to finish his schedule.
Although the actor did not confirm his return for Avengers 4 reshoots, Hemsworth teased the Infinity War sequel to hint that it features a more shocking end than Infinity War.
"If you were shocked by [Infinity War], I think the second one is even more shocking, for other reasons entirely. That's what kind of blew me away the first time I read both scripts, is how they managed to orchestrate so many different characters but give them each their own separate shot and moments, and have it be elevated and feel fresh and unique—not just like a messy, thrown-together assembly of these guys," he told.
Avengers 4 is set to release on May 3, 2019. Meanwhile, Avengers: Infinity War is preparing to record $1 billion box office collection worldwide.