West Indies superstar Chris Gayle has heaped praise on Kings XI Punjab (KXIP) co-owner Preity Zinta, saying the Bollywood actor deserves to get hands on Indian Premier League (IPL) 2018 trophy.
The 38-year-old big-hitter said it has been "amazing" to see the Zinta rooting enthusiastically for the Punjab-based franchise in the ongoing season of the cash-rich league.
As the T20 globetrotter points out, Zinta keeps turning out for her team's matches regardless of their position on the points table. Television cameras have rarely missed the Dil Se actress' passionate reactions to match scenarios over the years.
Gayle added that his main goals are winning the 2019 World Cup with the West Indies and the IPL 2018 trophy with KXIP. He also insisted that he is currently focussed on helping his franchise achieve their targets in the ongoing season.
"Just two things: winning the IPL this year and the World Cup for West Indies next year. I believe West Indies have a big chance of winning the World Cup in 2019," Gayle told The Times of India.
The KXIP opener added: "But right now it's definitely the IPL. KXIP have never won it. Our owner Preity Zinta is so fantastic, so enthusiastic. The way she roots for her players is just amazing and I think she needs to lift the IPL trophy this year."
'King Gayle was destined to play for Kings XI Punjab'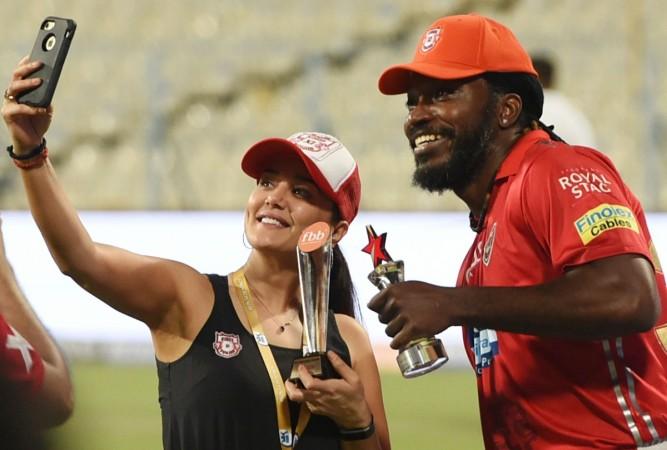 KXIP, under their new captain Ravichandran Ashwin, have given Zinta a lot of reasons to smile in the 11th edition. The Punjab-based franchise are sitting third on the eight-team table, tied on points (10 from seven matches) with two-time champions Chennai Super Kings.
Gayle, who was bought by KXIP after he had gone unsold twice during January's auction, has repaid the faith shown in him by smashing 252 runs, including a match-winning century, in just four matches.
Notably, the veteran West Indies opener was rested for the first two matches of the season. In his very first outing for the KXIP, Gayle smashed a 33-ball 63 and helped his team register a four-wicket win over CSK at home.
Gayle has revealed he was surprised over the auction snub but insisted he is having a "great time" at KXIP in the ongoing season.
"I'll be honest in admitting that it was very surprising for me to not get picked by any team. I don't know what went behind closed doors but I also understand that these things happen. It's just the way it is," Gayle said.
"But it's fine. I've moved on from it. Like I said, it's a great opportunity to be playing for King XI Punjab and so far I've had a great time.
"Perhaps it was supposed to happen, you know. King Gayle; destined to be playing for Kings XI Punjab."