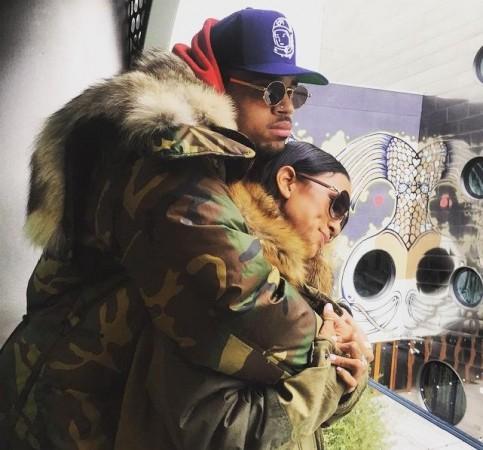 Chris Brown and Karrueche Tran's on-again-off-again relationship is witnessing yet another interesting twist. If the latest reports are to be believed, then it seems like the couple went on a secret date at the "Loyal" singer's house on 11 July.
After months of drama and having gone all out and loud about not seeing each other's faces, it looks like Brown and Tran couldn't really stay away from each other for too long. The couple apparently reunited for a romantic date and things are back on track for the two.
According to Hollywood Life, Chris and Kae want to keep this reconciliation news off the spotlight. "Chris and Karrueche had a secret date on Saturday night. Chris sent his driver to pick her up at 7pm on 11 July in a pimped out luxury SUV and brought her back to his place. Neither one of them is telling many people about what's going on between them. They just don't want the glaring spotlight on them right now. It's all very hush hush," a source said.
We all know how things went ugly when Chris ended up screaming at Karrueche's doorstep on 5 June and when Kae swore not to take the singer back into her life. Not just this, the couple didn't even want to come face-to-face at the BET Awards.
This recent hook-up comes as a huge surprise to all those who have witnessed all the fiasco that went down between the duo. While Karrueche Tran kept stressing that she was done with the singer's cheating ways, Chris on the other hand has been doing everything that it takes to win her back.
Though the model has for months maintained that she will never forgive and get back together with the "Turn Up The Music" singer, in her recent interview with Ryan Seacrest she did hint at the possibility of patching things up with her ex, the website pointed.
"Us getting back together...I can't say. I don't know what the future holds," she had said.
The report further stated that things are looking good for the couple as they continue to exchange steamy text messages. "Chris is so passionate and emotional and they had the most incredibly sizzling sex life ever. Other guys just can't measure up. Despite wanting to shut him out they have been texting once again," a source said.
Now, we have to wait and watch if Chris Brown and Karrueche Tran come out and talk about this reunion.