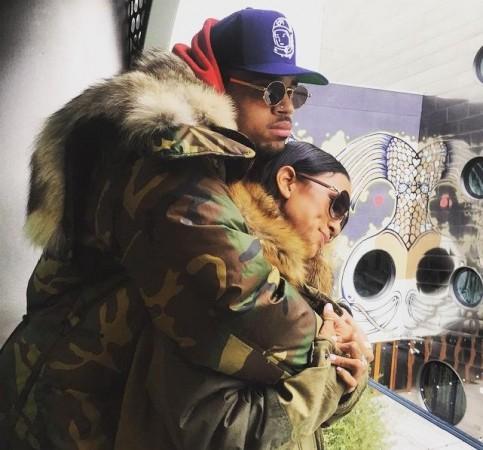 Chris Brown has taken on a full-time role of a doting father and it looks like he is done trying to win back Karrueche Tran.
Father's Day celebrations and Royalty's extended birthday outing at Disneyland appear to have given Chris Brown some new perspective on his personal relationship issues.
If latest news reports are to be believed, then the "Loyal" singer is done chasing model Karrueche Tran, who broke up with him after she found out about Royalty in March.
The buzz is that Brown is not going to make anymore attempts to win her back and that he is ready to move on. According to Hollywood Life, Brown is very adamant about this decision of not getting carried away with this "toxic relationship" again.
"Chris has come to the realization that he's the prize! He's the golden ticket that everyone's after – not her. He would cut off both his legs before he chases her or any other female for that matter," an insider said.
Apparently, this is not the first time the singer has confessed about this realisation. There were also reports where he had allegedly said that his relationship with Tran was like "being addicted to crack" and he has confided in close friends saying he's done for good this time.
"Chris is over Karrueche. He gave it one hell of a try but he surrenders. He can't be addicted to her like that anymore. It wasn't a good habit. Being in love with her was like being addicted to crack. It just wasn't a good look for him nor does he want to run after her like he needs her," the insider said.
As shocking as this may sound, but it looks like the "Forever" singer is ready to move on and focus completely on his music career and daughter Royalty.
At least, this is what Brown confessed to in his recent interview with Real 92.3 on June 19. "My main focus now is my music, but my daughter first. Right now, I'm doing it all for her. So I can take my time off later!" he said.
Well, can we assume that Chris Brown has finally made up his mind about "not winning back" Karrueche Tran anymore?