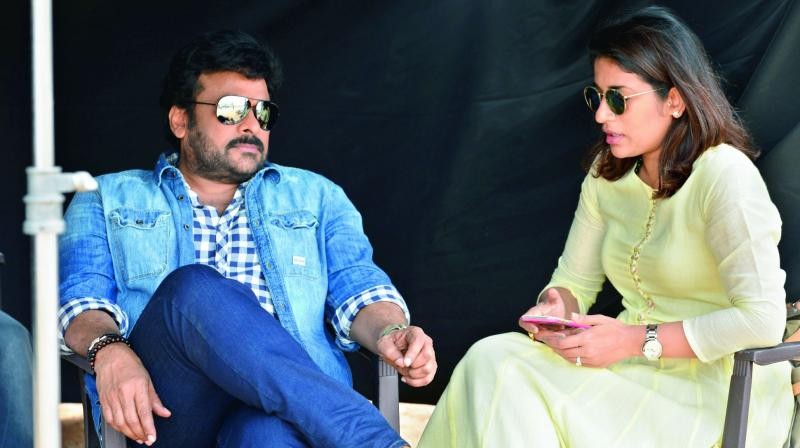 Megastar Chiranjeevi's elder daughter Sushmita Konidela, who had taken a break from film activities, is now making her comeback as a fashion stylist with his upcoming movie Khaidi No 150.
Sushmita has been the stylist of Chiranjeevi since the days of Jai Chiranjeeva, which was released in 2005. But the costume designer had taken break a few years after her marriage with Chennai-based businessman Vishnu Prasad in 2006. Now, she is returning as a stylist for her father's prestigious project Khaidi No 150, which is produced by her brother Ram Charan under the banner Konidela Productions.
Sushmita Konidela took to her Twitter handle to share excitement about her comeback. The costume designer tweeted: "Balancing family time-work-travel-madness. Have to be thankful to my husband and my babies for being super supportive. #BlessedAndGrateful."
She says that she took a break to enjoy motherhood. "I know there has been a gap but I wouldn't really call this a comeback, because I hadn't been away from the fashion scene altogether. I worked on my fashion line Dela for a while and have been styling my father for many public appearances. But I did take a break from my fashion line to turn a full-time mom," she told Deccan Chronicle.
Sushmita says that Chiranjeevi is all excited and enthusiastic to make his comeback to big screen with Khaidi No 150. She feels more matured today to work with him. "At first, I was young and found it difficult to convey my opinions to the directors and I would ask my dad to say it to them. Today, I am glad people look at me as a matured individual and value my opinion," she shares.
When quizzed about Chiranjeevi's young and stylish look in Khaidi No 150, she says, "It is an important film as he is making a comeback but our aim was simple: to ensure that he looked just the way he did before he left. The original essence of Chiru was what we wanted to reflect. We didn't want to experiment too much but at the same time, we wanted to keep trends in mind and make him look stylish."