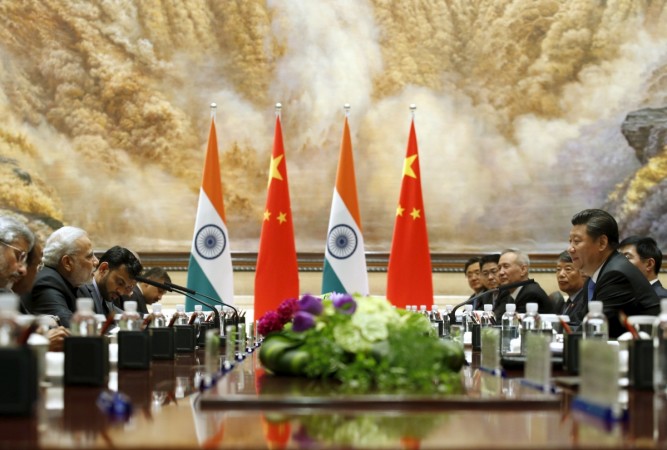 State-run Chinese media Global Times has said that India under Prime Minister Narendra Modi has made "little progress" and is far from replacing China as the new growth engine for the world economy. In an opinion piece, the publication also said India's economic superiority is just a hype.
"Since he came into office as prime minister, Modi has boosted the morale of the Indian economy. However, Modi's economic reform has achieved little progress, which is known in the international community," wrote Liu Zongyi, senior fellow at Shanghai Institutes for International Studies and a visiting fellow of the Chongyang Institute for Financial Studies, Renmin University of China.
Zongyi said that Indian government officials, along with the Western media, won't succeed in "instigating" global investors to shun Beijing and move to New Delhi since China offers many advantages of scale over India.
"However, such hype has limited effects as profit-oriented investors try to lower their transaction costs as well. The Indian market, be it in scale, profit margin or business environment, cannot compete with that of China."
He attributed India's economic growth (in the recent past) to falling crude oil prices and tweaked GDP measuring techniques and not in a real sense.
Zongyi rued the tendency among Western scholars to use the country's (Communist) ideology to "deny" the strength of Chinese political and economic institutions, but acknowledged that China "has made a few wrong decisions in the past 60 years," without elaborating.
At the same time, he highlighted India's weaknesses.
"New Delhi's economic reform is impeded by its political institutions and party systems. Certain interest groups carry more weight than Indian politicians. Sophisticated party-to-party competitions have seriously influenced the nation's executive ability."
On the positive side, Zongyi said the Indian economy is developing in a gradual manner, having opted for a "relatively more successful development road" than other South Asian nations.
Last October, PTI had quoted India China Chamber of Commerce & Industry (ICCCI) President Kashi S Deora as saying that India-China bilateral trade had the potential to reach $80 billion in 2015 from $70 billion in 2014.
Trade deficit between India and China rose about 34 percent to $48.43 billion in 2014-15 from $36.21 billion in the previous fiscal, Commerce and Industry Minister Nirmala Sitharaman said in a written reply to the Rajya Sabha last May.
The two countries share a common border, which is disputed.
"The border dispute dates back to 1914 when Britain, which controlled India at the time, signed an agreement with Tibet which made the McMahon Line (named after then foreign secretary of the British-run Government of India) the de-facto boundary. China has rejected it," reported the BBC last May when Indian PM Narendra Modi visited China and had bilateral talks with China's Premier Li Keqiang.
In September 2014, Chinese President Xi Jinping visited India in the backdrop of incursions into the Indian territory by Chinese troops.