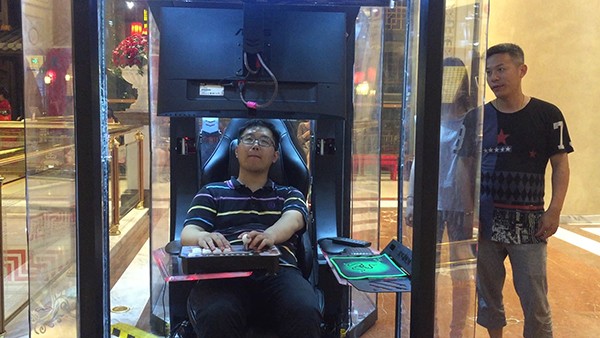 Are you the kind who gets super pissed when you are forced to tag along with your partner for shopping? Then you are not alone.
Hear hear, Chinese malls are taking kindly to hopeless escorts like you.
Also check: Kerala school principal's 'exasperating farrago' can give Shashi Tharoor a run for his money
The malls have set up glass-encased kiosks equipped with a comfortable massage chair, television and computer games to while away time when your better-half is busy shopping. The pods are installed in high-end malls in Shanghai, including Global Harbour, on a one-month trial basis. The boxes reportedly cost 40,000 yuan ($6,000) each.
The man-caves service can also be pre-booked via mobile application. As of now, the service is provided free of cost and users might have to pay for it in future. "Really great. I've just played Tekken 3 and felt like I was back at school!," says Mr Yang, according to BBC. "Such a machine is just the best of both worlds: the girlfriend can take her time shopping while I have some fun without disturbing others," commented another.
Also read: How a deaf singer left everyone speechless in America's Got Talent [VIDEO]
Another user Mr Wu, suggested areas for improvement. "There's no ventilation or air conditioning, I sat playing for five minutes and was drenched in sweat."
However, few others are understandably not happy. "If my husband just wants to go out and play games, what's the point of bringing him out?," asked a woman.