Chinese engineers are working on an ambitious project to make its Xinjiang desert bloom. They are currently testing techniques that could help them build a 1,000-kilometre-long tunnel, which is expected to carry water from Tibet to the drylands of Xinjiang.
The proposed tunnel, if successfully built, would be the world's longest, easily beating the existing longest tunnel, which is 137 kilometres long and situated beneath the New York City. On the other hand, the 85-kilometre-long Dahuofang water project in the Liaoning province is presently said to be the longest tunnel in China.
The future tunnel between Tibet and Xinjiang will descend from the highest region on Earth in several sections connected by waterfalls. According to one of the geotechnical engineers working on the project, the tunnel will "turn Xinjiang into California", South China Morning Post reported.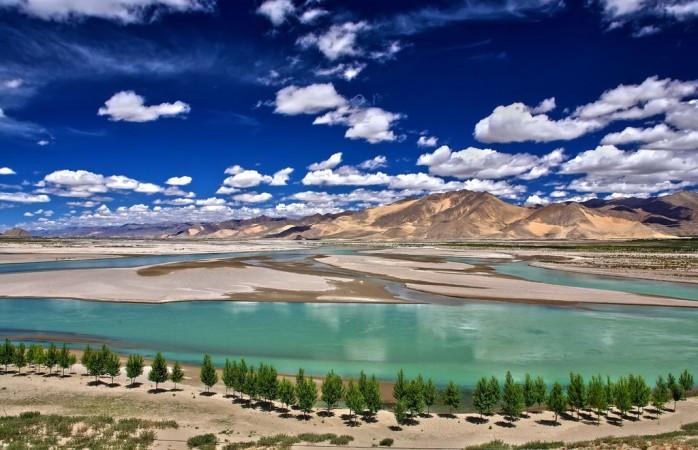 Diverting a river in southern Tibet
The Tibet-Xinjiang tunnel will divert the Yarlung Tsangpo river, which becomes the Brahmaputra in India and joins the Ganges in Bangladesh, in southern Tibet to the Taklimakan Desert in Xinjiang.
Although several proposals to divert water from Tibet to Xinjiang were made decades ago, the Chinese government is now said to be taking serious steps to revive the project, which includes more than 100 top scientists across the nation.
The latest Tibet-Xinjiang water tunnel proposal, which was submitted to the central government in March, suggested draining the Yarlung Tsangpo river at Sangri county in southern Tibet, which is near the disputed border with India.
A man-made island!
The proposal also includes the suggestion of building an artificial island in the middle of the river to create rapid turbulence. This turbulence is expected to filter out sediment and direct water to a well, which could control the amount of water flowing into the tunnel.
According to researchers, the tunnel is estimated to carry 10 billion to 15 billion tonnes of water from the Yarlung Tsangpo river to the Taklimakan desert each year. The cost of the project, however, is expected to be huge, with China's top tunnelling expert, Wang Mengshu, estimated it to be at least one billion yuan (more than Rs. 977 crore) for each kilometre of the tunnel.
China had already started building another tunnel in the centre of Yunnan province in August as part of a pilot project to test the technical capabilities to construct the Tibet-Xinjiang tunnel. The Yunnan tunnel will be more than 600 kilometres long and is considered as a "rehearsal" of the bigger Tibet-Xinjiang tunnel.
"The water diversion project in central Yunnan is a demonstration project," Zhang Chuanqing, a researcher at the Chinese Academy of Sciences' Institute of Rock and Soil Mechanics in Wuhan, Hubei province, told South China Morning Post. "It is to show we have the brains, muscle and tools to build super-long tunnels in hazardous terrains, and the cost does not break the bank."