Looking at any commonly used tourism aggregator or portal in India such as Lonely planet, Tripadvisor or others, one can find forums and sections that alert travelers to various scams.
A common practice listed here involves travel agencies or taxi drivers that incentivize customers to shop at retail outlets such as handicraft or jewelry emporiums for a reduced transportation fare.
Though tourists may agree to this, much to their eventual dismay, the visit becomes a waste of time as the number of emporiums or retailers to be visited increases from "a few" to at least 5 or 6, so that the driver can maximize his commissions. Once there, the shopping experience itself is almost always rated poorly due to the overly insistent sales staff and in many cases, customers end up getting cheated due to overpriced goods.
While you may be privy to the knowledge of such incidents and may have even felt sympathy for a foreign traveler after watching them being suckered into these establishments, you may not know that China has begun a systematic crackdown on such nefarious tourism practices.
China National Tourism Administration (CNTA), the state appointed body in charge of tourism related issues on October 13, 2016 announced its half-year-long plan action plan to crackdown on unreasonably low-cost tour packages.
The modus operandi involves tourism operators charging below-cost prices for tour group packages. But they eventually, make most of their profit by getting rebates from retailers where the travel agencies take the tourists to shop. The low-cost trips with shopping account for over 90% of China's domestic tour group package business.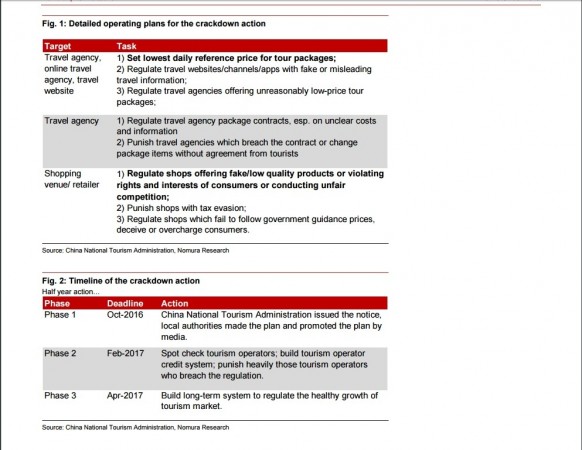 Although, domestic tourism is expected to take a hit, analyzing the market trends, Nomura brokerage says that in the long term quality of tours would increase with fewer shopping slots, better shopping environments, and better service from tour guides. However, it also predicts that shopping will continue to be included in tour packages for some time as it is still the most acceptable tour group package for most group tourists.
Analysts also suggest that the clampdown on domestic low-cost tour group packages with shopping schedules should not affect outbound tourism for Chinese tourists in their trips to Southeast Asia, Japan and Korea even though low-cost tour group packages are also prevalent there.