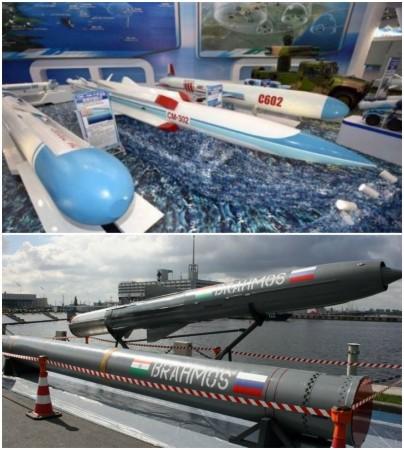 China showcased its new supersonic anti-ship cruise missile (ASCM), CM-302, at the recently concluded 11th China International Aviation and Aerospace Exhibition. CM-302 is an export variant of the YJ-18 and has a range of 290km, same as Indo-Russian joint venture BrahMos missile.
BrahMos is the fastest anti-ship cruise missile in operation. Now with the arrival of a new competitor, we will have to see if BrahMos will lose this title.
CM-302 missile can hit ships and coastal targets. It can be launched from ships, aircraft or land-based vehicles.
The missile, according to Shephard Media, approaches its target at an "ultra-low altitude, sea-skimming" path and is "highly manoeuvrable" in its last phase. It also said that it had a "high hit probability of 0.9."
Lyu Xiaoge, spokesman for China Aerospace Science and Industry Corporation (CASC), says that it is one of the best anti-ship missiles available in the market and even added that he was not "exaggerating" it.
It is speculated that the maximum speed of the missile could be 2.5 times the speed of sound, though Xiaoge did not specify it, Ocean-Fortune reported.
Chinese media tagged the missile with J-20 stealth fighter aircraft and dubbed them both as the "crown jewel" among the displays at the air show.
BrahMos is also a supersonic cruise missile that can reach speeds of Mach 2.8 to 3.0. BrahMos is in operation with the Indian armed forces in naval and land variation. India is testing out the air-launched version.
India is also developing a BrahMos-II, which can reach a speed of Mach 7, moving into the hypersonic cruise missile category.
Owing to India's entry into the elite Missile Technology Control Regime (MTCR), India is also planning to double the range to 600km. This decision was taken at the October 26 meeting between the defence ministers of India and Russian.
India would be worried if Pakistan becomes the first export customer for CM-302. China calls Pakistan its all-weather friend and uses it as a pawn against India. It will be interesting to see Indian reaction to such a possibility.