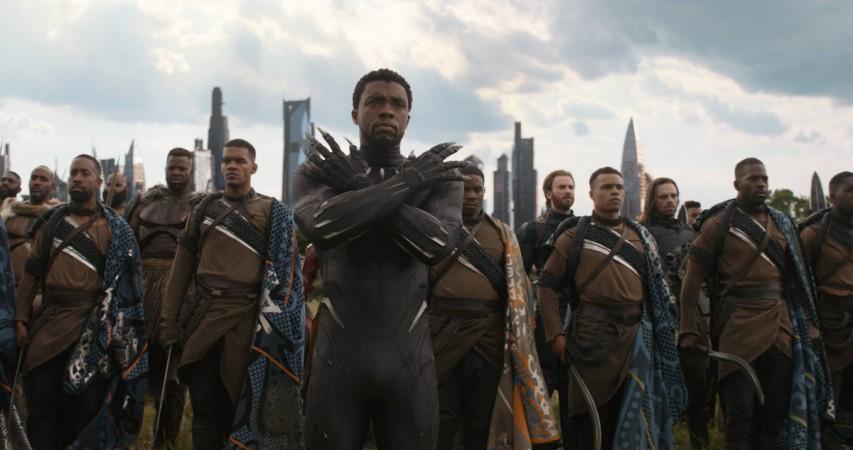 After conquering the US domestic box office, Marvel is reigning over the China box office with Black Panther. The Chadwick Boseman movie released two weeks ago in the Chinese market and has already collected $100 million, Variety reports.
The film currently holds an international collection of $593 million. China has contributed the highest towards the international collection as of now. The Chinese market's collection is followed by the UK with $60.6 million, South Korea with $47.2 million and Brazil with $33.5 million, the publication reports.
Judging by the China box office collection shared by Box Office Mojo, the Ryan Coogler directorial has already surpassed the collections of Wonder Woman ($90.4 million), Beauty and the Beast ($85.7 million), Batman v Superman: Dawn of Justice ($95.7 million) and The Amazing Spider-Man 2 ($94.4 million).

The film is currently neck and neck with Guardians of the Galaxy Vol. 2. The James Gunn directorial collected $100.6 million during its theatrical run in the Chinese market. Black Panther could soon beat GotG 2 and leave behind Logan ($105.9 million), Justice League ($106. Million) and Doctor Strange ($109 million). It could soon beat Thor: Ragnarok's $112 million collection as well.
It is also tracking behind Star Wars: The Force Awakens' $124 million, Spider-Man: Homecoming's $116 million and Captain America: The Winter Soldier's $115.6 million box office collection.
But the movie is still far from beating the box office collection of movies like Mission: Impossible - Rogue Nation ($135 million), The Jungle Book ($150 million) and Captain America: Civil War ($180.7 million).
Black Panther's current stature doesn't come as a surprise. Prior to the film's China release, The Hollywood Reporter published a report stating that Black Panther was tracking an opening similar to all Marvel movies released in the market in the past.
The publication also reported that leading Chinese ticketing site Maoyna showed the film had attracted about 250,000 "want-to-see" votes from its registered users, hinting at the positive response.
Black Panther currently holds the 14th spot on the biggest worldwide grosser list with $1.21 billion worldwide collection. The film is likely to earn another $16 million in North America this weekend, beating Iron Man 3's collection.