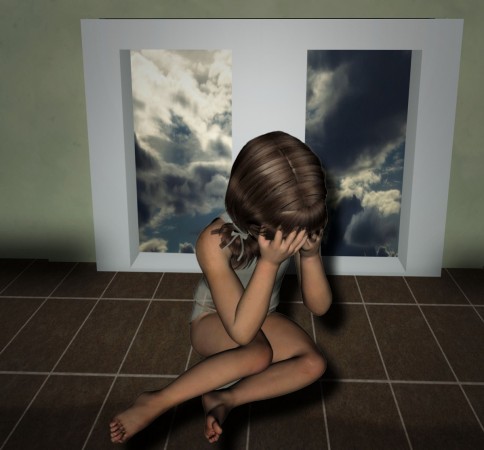 A disturbing mobile video titled "potty training 101" has gone viral on various social media platforms. In the video, a man is seen pouring hot sauce down a child's pants and on his face to punish him. The poor kid is seen screaming at the top of his voice.
Also read: Watch: In a world of Hachiko, a cruel man beats a dog with wood, mop and shovel
One Shana Honeycutt shared the shocking video on the night of Wednesday, February 7. The child abuse video has since gone viral on various social media sites and also creating outrage. It was originally posted on Snapchat.
Honeycutt identified the culprits as she captioned the video: "Stevi Allie (deactivated but from Choctaw, OK) and Seven Flores (real name Andrew Guerrero or Andrew Flores) think putting hot sauce on your child's face and in their mouth is an appropriate way to potty-train.
"I'd never shame a mom like this unless it was warranted. I'm shaking for that poor baby."
In an interaction with KWTV, Honeycutt said: "It's abuse. You don't potty-train by pouring hot sauce down a baby's pants and wiping it all over the face."
The video, which has nearly 13,000 views on Facebook, was originally shared on a private Facebook group. But later the members made it public so that it can draw attention.
According to the boy's mom, who is a member of the unidentified group on Facebook, informed everyone that the child is okay.
You can watch the video here.
[WARNING: SOME VIEWERS MAY FIND THE CONTENTS OF THIS VIDEO DISTURBING]
She also insisted that they did nothing wrong. "The video was played out to be something it wasn't," she told KWTV.
She further claimed: "You can see that nothing went down his pants, and nothing was in his mouth...I would never put [my son] in harm's way."
Despite her claims, the video caught the attention of Choctaw and Midwest City police, as well as the Department of Human Services. Their investigation is still going on.
DHS Communications Director Sheree Powell said: "If something bothers you that much of what you're seeing, and you think it's important enough to share with your friends and family, you need to report it."
Honeycutt, who is also a mother of four-year-old and a one-year-old, also said: "It needed to be public. It didn't need to be left in a private Facebook group where no one did or said anything about it."