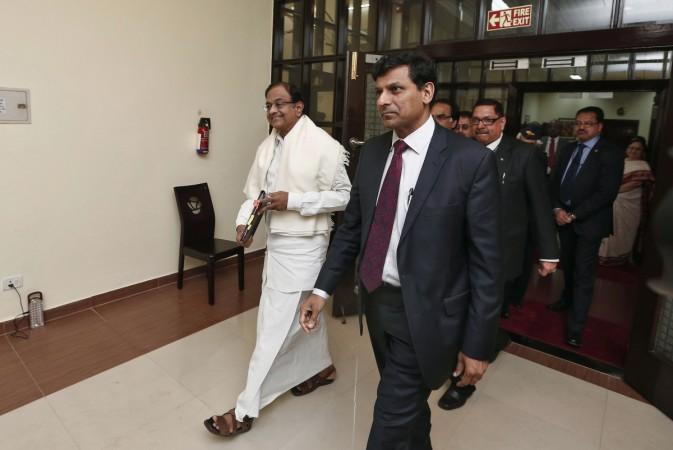 P Chidambaram, Congress leader and former finance minister in the UPA government, spoke in defence of Reserve Bank of India (RBI) Governor Raghuram Rajan even as ruling party BJP's member Subramanian Swamy has openly called for sacking the governor instead of giving him a second term.
"I am beginning to think whether this government deserves Dr Rajan," he replied when asked in New Delhi on Saturday whether Rajan should be given a second term, PTI reported.
He was talking to reporters on the occasion of the Narendra Modi government completing two years in office. The BJP-led NDA government is holding a five-hour celebration at India Gate in New Delhi on Saturday to mark the occasion. The event is being attended by Amitabh Bachchan, Raveena Tandon and other Hindi film celebrities.
Describing Rajan as "one of the most outstanding economists of the world," Chidambaram said the relationship between finance ministers and central bank governors worldwide never raises questions on the competence of the governor.
Swamy has been scathing in his criticism of Rajan, accusing the governor of many things, including sending "confidential and sensitive financial information using unsecured Chicago University email id" around the world.
Also read: We should kick out the RBI governor: BJP's Subramanian Swamy on Raghuram Rajan
He also alleged that Rajan's decision to raise interest rate (repo rate) and keep them high for a long time ended up forcing recession on domestic industries, and said that the governor allowed Sharia compliance on financial organisations despite the RBI Act disallowing the same, reported PTI on Thursday.
Arun Jaitley, senior BJP leader and finance minister in the Narendra Modi government, had publicly disapproved of such remarks on the RBI governor. "I don't approve of personal comments against anyone, let alone the RBI Governor," he said.